BIG SKY SPECTACULAIRE RACE REPORT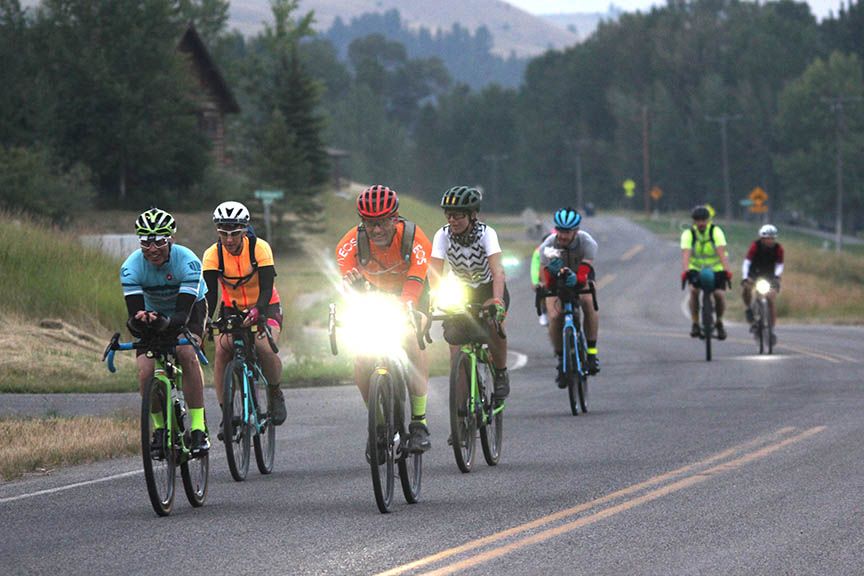 4 days 2 hours 9 minutes
Race Priority: A
Race Execution:  Solid A
Background
Before you read for 20 minutes let me at least let you know what you are in for.  I want to take you on my journey.  It's not filled with numbers and data, but rather the adventure that is my experience on the Big Sky Spectaculaire.  I have all the numbers and data.  I will share some.
I think I can safely say that 2020 has been a real bear for everyone on so many levels.  As an athlete, so many events have been cancelled and/or delayed.  For me, it was Race Across the West.  I won't even lie.  The race was coming with amazing speed and I didn't feel ready.  I've never done a multi-day event.  Could I even tackle the mileage?  Could I perform to my own expectations and that of a crew that would sacrifice so much to support me?  There were so many unknowns.  Its cancellation left my race calendar shockingly open and left me wondering what to do with myself.  What could I do this season that would give meaning to my year and personal growth?  I was looking for something that would feed my soul with challenges and adventure.
This year, it was the Big Sky Spectaculaire!  My fellow ultra cyclist, mentor and cycling friend, Janie Hayes pinged me out of the blue.  "This has your name all over it."  with an attached link to the aforementioned race.   She gets me.  A multi-day, pavement, gravel, bike packing, self-supported event in my home state of Montana.  A quick glance at the route and I could barely contain my excitement.  I've driven a fair amount of the highways at some point, ridden some, and some would be all new.  Another excuse to go back to Montana.  Sold.  The race lives up to its name.  I can't even add to the description.  It speaks for itself.   Big Sky Country and spectacular views.  It's a very thoughtful and stunningly beautiful creation by Crowell Herrick.  His plan was for a mid-distance event for people to try something bigger(me), a training ground for others looking to train for TransAm or Tour Divide or other such events; a gift to the cycling community.  There were no entrance fees, no placements or awards.  Pie and scenic stop bonuses were offered and an opportunity to make it your own adventure.  So 2020 became a rapid change of gears for me.  I can bike and I can camp.  Now to buy the gear and train to do them all at once.  I was training and purchasing for Crowell's event before I even signed up.  Standard procrastination on my part.
What makes this even better?  My amazing ultra coach and now friend, Greg Grandgeorge was training for The Utah Mixed Epic.  He easily shifted my training plans to accommodate my changes.  Additionally, he loaned gear for me to try.  We were training for similarly distanced bike-packing events along a similar timeline.  COVID has placed us into little pockets of "safe and socially distanced" friends, so Greg and I found ourselves training together with regularity.  I finally registered for the event.  Shortly thereafter,  Evan Deutsch, Janie Hayes, Mike Maurer and Greg all shifted from the Utah Mixed Epic for various life reasons.  Sadly, we would lose Mike due to the poor air quality that was anticipated.  All are veteran ultra athletes that Greg(ultra veteran himself) coaches and then there was me, the relatively new ultra on the block.  The field was officially stacked with competition along with the other entrants!  Woohoo!
Pre-Race and Gear
Crowell hosted a picnic for us at Beall Park(race start location).  All race steeds were inspected and we met our racing colleagues at a socially appropriate distance.   We were updated about the latest conditions on the route(active fires, bear risk, water/food options etc).  My bike is a 2016 Salsa Warbird.  I chose Maxxis Rambler 40mm tires set up tubeless.  What I should tell you is that you should choose a smooth tread tire for this predominantly paved event.  That is the right answer.  However, the 120tpi Ramblers are a supple tire with enough tread to absolutely bomb gravel and yet roll quite smoothly on pavement.  This route had nearly 200 miles of gravel.  The Ramblers gave me confidence and so I stuck with my known and loved entity.  I had to have some extra and unnecessary drag due to the tread, and it probably added a few minutes to my overall time.  I had a waterproof Revelate seat bag, seat tube bag, top tube bag and Specialized partial frame bag (Side note is that the Specialized bag is rated as water resistant, but I find it pretty much waterproof).  I had two 21oz Camelbak bottles, a third 21oz bottle for extra water needs/parts etc. and a 2.5L Camelbak hydration pack.  I had a standard laundry list of all repair items, extra tubes, meds, wool clothing, tent, quilt, groin care, and waterproof apparel.  I used all apparel and gear except my tent.  I used no repair tools thanks to the careful inspection and care from Kyle's Bikes.  Kyle and crew have kept me running flawlessly for two monster events now and I cannot thank them enough.  I did use an Ice Friction chain.  It was my first experience and superb.   The chain was flawless and smooth the entire race.  In hindsight, I would have taken a minimalist bivy shelter in place of a tent for the flexibility of camping, but this route has plenty of lodging options. I chose a bed every night to get better sleep and hopefully perform better over long days.  I was glad to know I had shelter if needed.  I lugged 3-4 pounds around for 968 miles that I did not need.  Oof!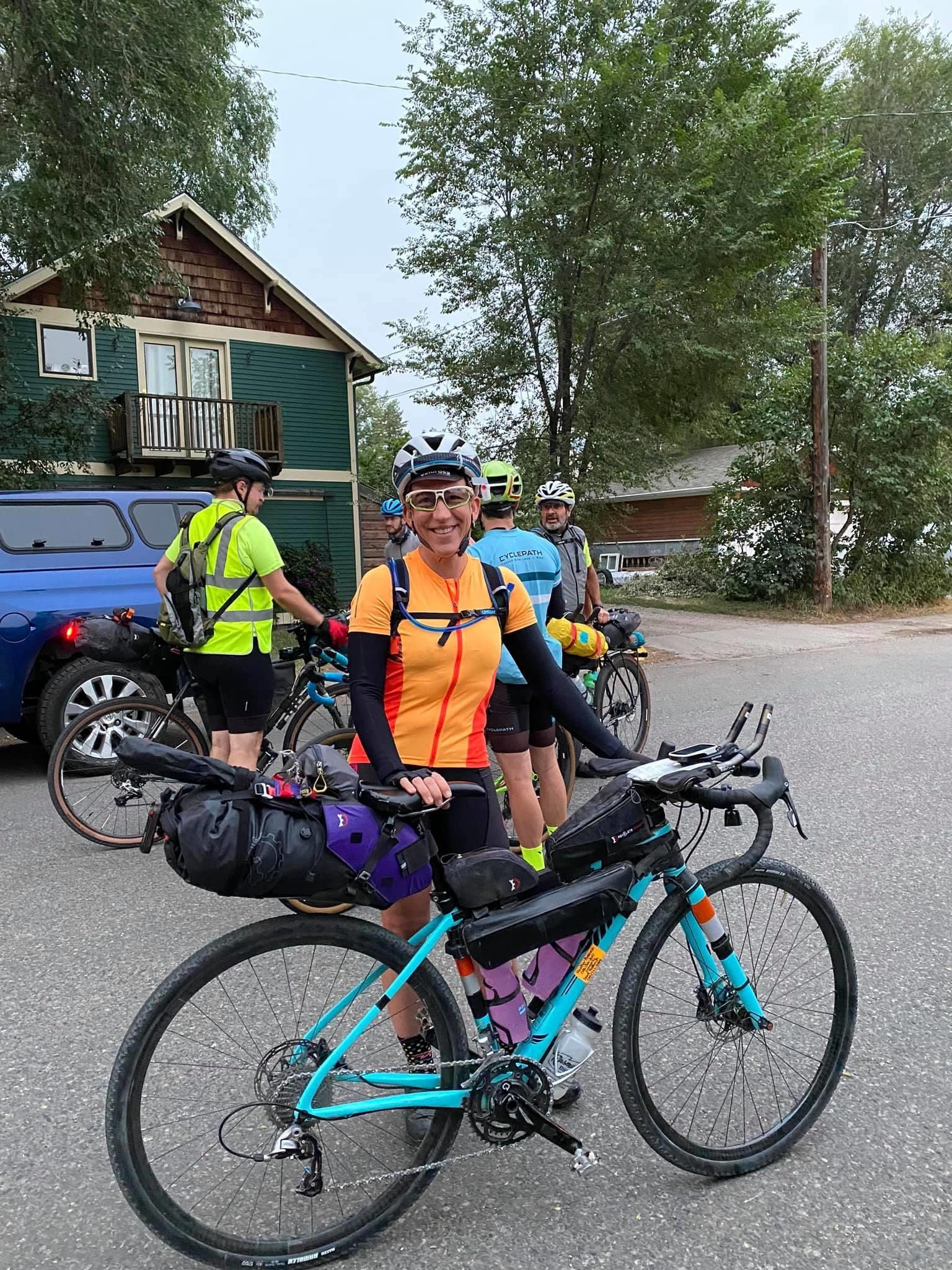 Day 1
225 miles in 15hrs 34min, Normalized Power(149 watts)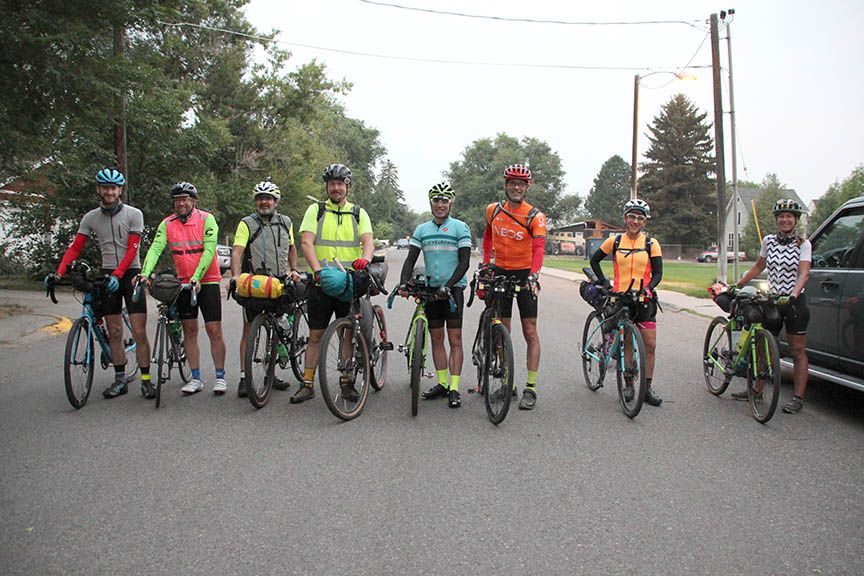 We all met at Beall Park with race start at 6:30am.  Crowell led us out on a neutral start then we were off!  The pace was comfortable; almost relaxed.  Having never been in a multi-day event, I decided to settle in with the veterans and see what they considered an acceptable pace.  My start was complicated by my Garmin 1030 not wanting to show course turns, but after a couple resets and sweaty palms my problem was resolved.
I enjoyed some early conversation with Janie, Evan, and Greg to settle my nerves.  I was in close proximity with Greg when we arrived at the first time bonus; the Missouri Headwaters.  Quick selfie and back at it.  First refuel was in Three Forks where I attempted to secure lodging in Jackson, but was met with only an answering machine.  Time to press on.  In my standard dallying mode, Evan and Greg were already gone, Janie didn't stop and I was passed by another rider.  I was fifth place in the first couple of hours.  Was I already mismanaging my event?  I let my worry go and gave chase.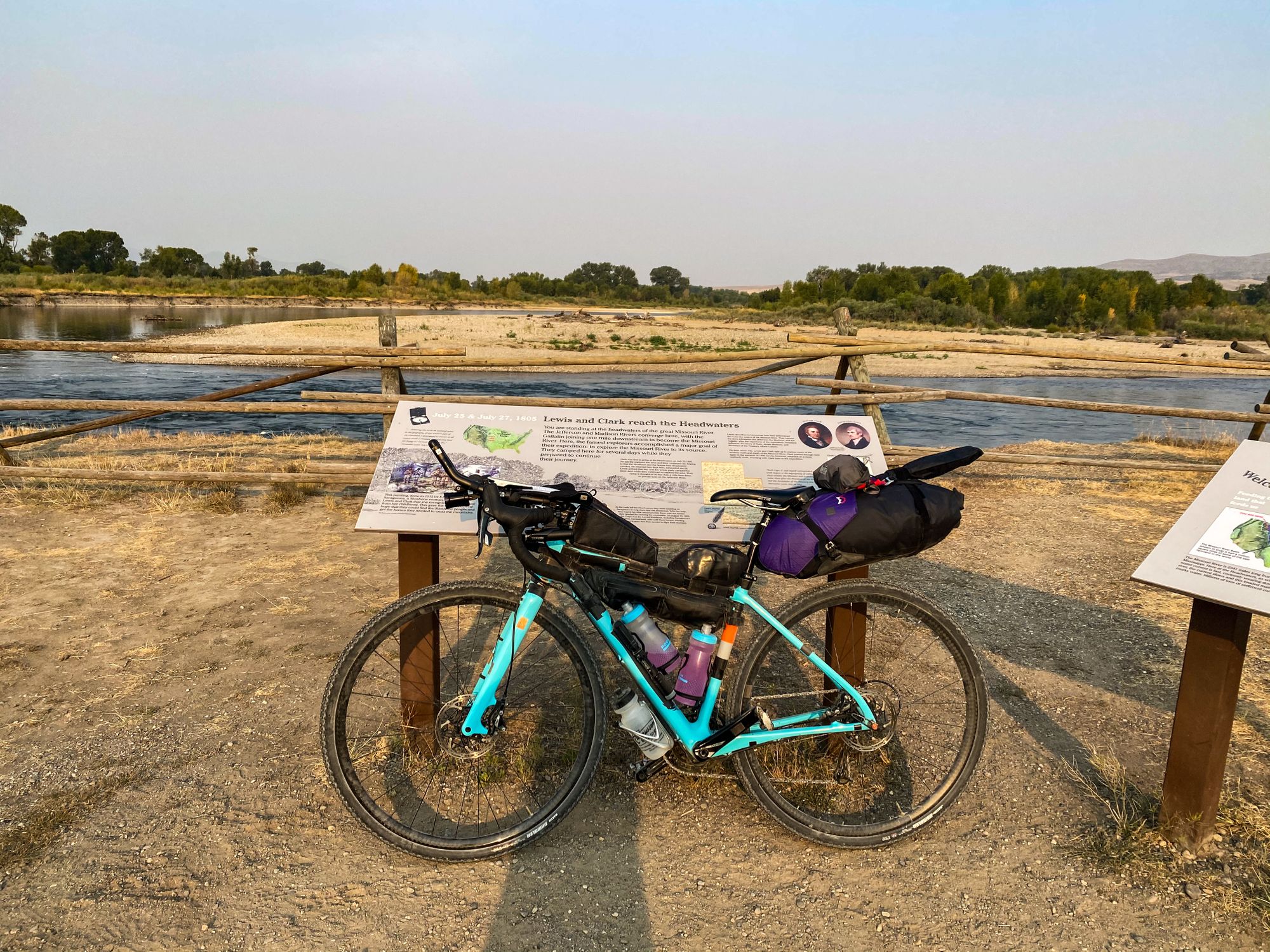 Climbing to Norris was enjoyable and I was happy to keep pace with Evan, but I also knew he must surely be taking a nap until he started to pull away.  We encountered an active fire just SE of Norris and I was happy to see the highway hadn't been closed.  Air quality was very poor for this day and would play a significant role in performance over the course of the day.  We met Crowell at the top of the Norris Hill climb.  Clearly race directors love to sit at the top of large climbs and take photos of you in full on suffer mode, but so early in this race I felt great.  Smile!  :)
Next refuel was in Ennis where I secured lodging for the night in Jackson.  Evan was now gone and Janie and Greg were leaving just as I rolled up.  I'd best settle into the role.  It was shaking out as I suspected.  I encountered some rain and started to struggle a bit on the long climb to Virginia City.  My heart rate had been markedly higher than anticipated all day.  I'd done this climb before and performed much better.  My competition had passed me some time ago and none of them were visible despite long views of the climb ahead.  Janie's words of caution regarding elevated heart rate and the bad omen of possible poor performance in the days to come echoed in my head.  If I backed off, my power would be in the toilet, but if I pressed on would I secure a fate that could end my race?  At my current slow pace, I had plenty of time to ponder over the matter.  I elected to let up just a bit, but heart rate(HR) still remained 7-10bpm higher than I would have liked.  By the time I met Greg, who was already preparing to leave, at my Twin Bridges refuel, the head games of ultra were winning.  I was already fatigued, disheartened, supremely worried I couldn't tackle this race, and honestly a mental half step away from tears of frustration(ack so weak!).  A hug from my coach and friend(I think I looked a wreck) with reassurance that he was in the same situation gave me hope.  The reality was that air conditions were abysmal all day.  California smoke was heavy in the air.  The Tobacco Root Mountains that are normally readily viewable had been entirely obscured.  My chest wall became tender to the touch from the act of trying to breathe.  Air quality paired with the heat of the day made for an incredibly challenging environment. I could only hope I had not physically buried myself and keep pedaling.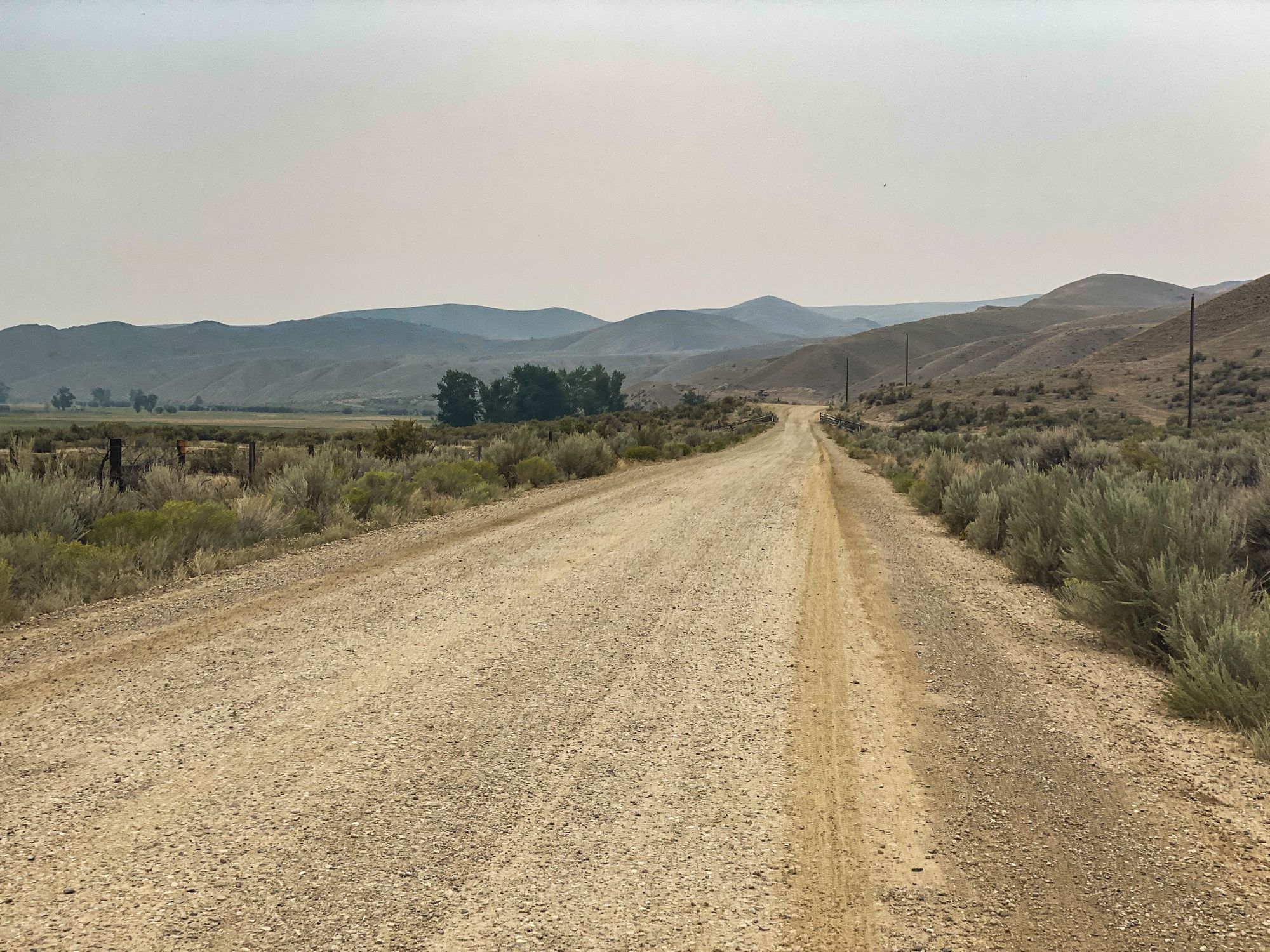 The highlight of the day was Burma Road.  It was a lovely gravel road following the Big Hole River. The views were superb.  A herd of bighorn sheep were grazing in an irrigated field.  It was rocky, hilly perfection and just what I needed.  I didn't need the truck spraying water all over the road that splattered me and my drivetrain for miles, but the mental reset was all my gravel-loving heart needed and more.  This was why I was here; to savor the sights and test limits.
I met Greg and Janie again in Dillon.  I had been chasing Greg for some time, but every time we'd hit a flat section his time trial strengths would leave me in the dust.  I fueled heavily for the night and morning.  We all grabbed dinner at McDonalds then headed out.  I left last and alone.  We had two more significant climbs in addition to the never-ending gradual ascent to Jackson where Janie waited a bit to check in on me.  We caught Greg and all were forced to add layers as the temperature dropped dramatically in minutes.   We arrived at the welcoming Bunkhouse Hotel around 11pm.  I showered, grazed and fell into bed dead to the world in seconds.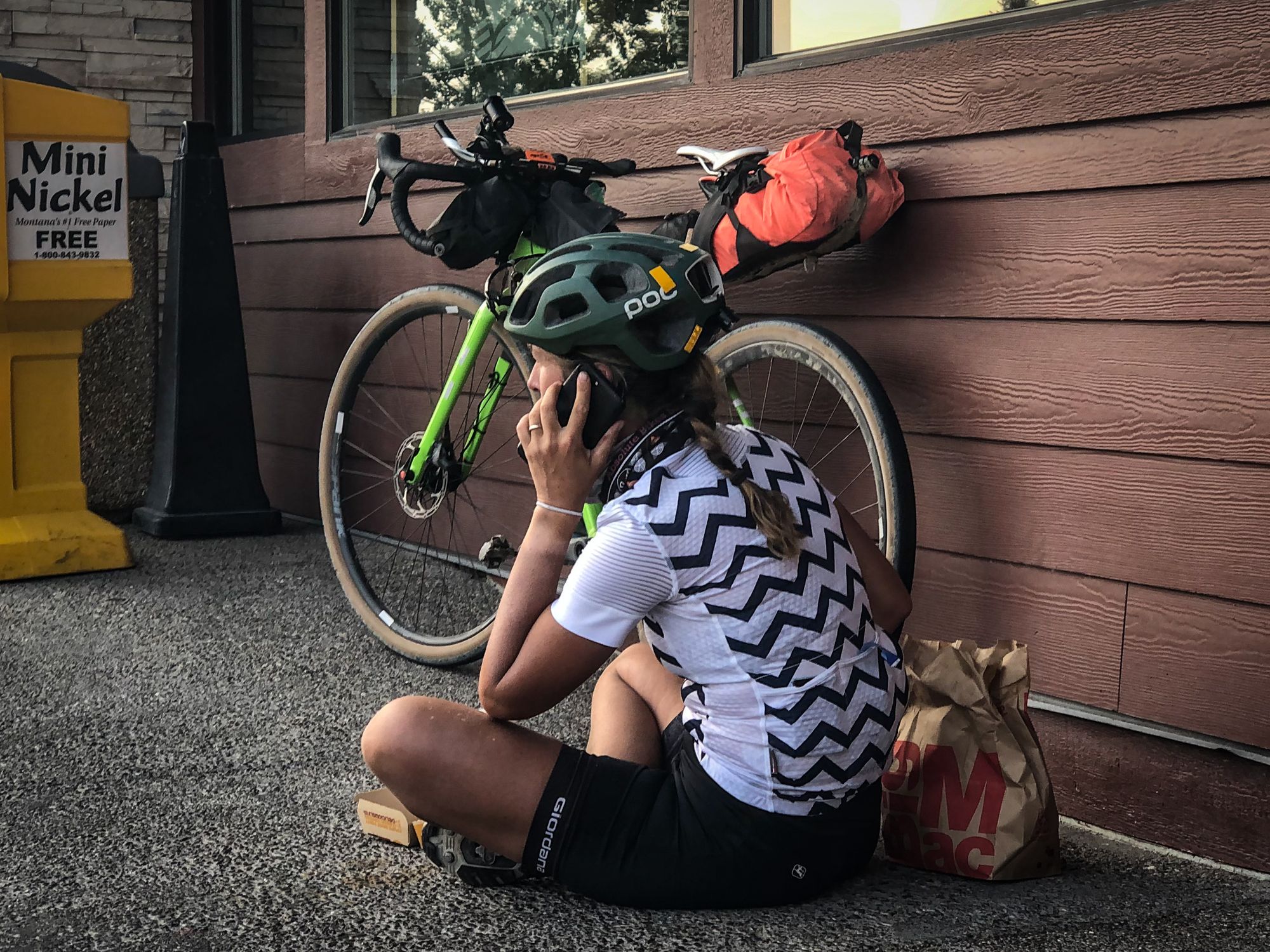 Day 2
219 miles in 13hrs 49min, NP(139W)
Janie crept out at 3am.  I was impressed and unmotivated to do the same.  Greg and I left at a much more comfortable 5am.  Evan had stopped in Wisdom for a bit and I knew that I had seen him for the last time. Temperatures were cool.  The scenery was enjoyable.  I was tired, but happy to have survived my first day.  My energy level was decently high.  Not high enough to realize that I forgot to start my Garmin until about 35 miles into the day.  My cue data would be off all day…simple math…something to do to while away the hours along with food, self cares, gear changes etc.  Somewhere in those early miles I pulled away from Greg, but I was confident that would not last long.
Chief Joseph Pass was our first big climb of the day and it was gorgeous.  I wanted to take a photo of the Idaho sign and Montana sign on opposing sides of the highway.  That would violate my no stopping for photos race rule and so I turned the corner slowly and pedaled away.  It was a swift, cold and intermittently rainy descent to Sula.  I arrived frozen and moderately desperate for warm breakfast.  Not desperate enough to wait for warm breakfast.  I was in luck.  When you go to Sula I hope it's early in the morning.  They make precisely six cinnamon rolls by hand each day because that is the number that will fit in their small oven.  After my purchase there were three rolls remaining.  They were going to box up my roll, but I assured them it would be gone soon and proceeded to eat a cinnamon roll the size of my head…..all of it.  It was delicious and worthy of this much race report real estate.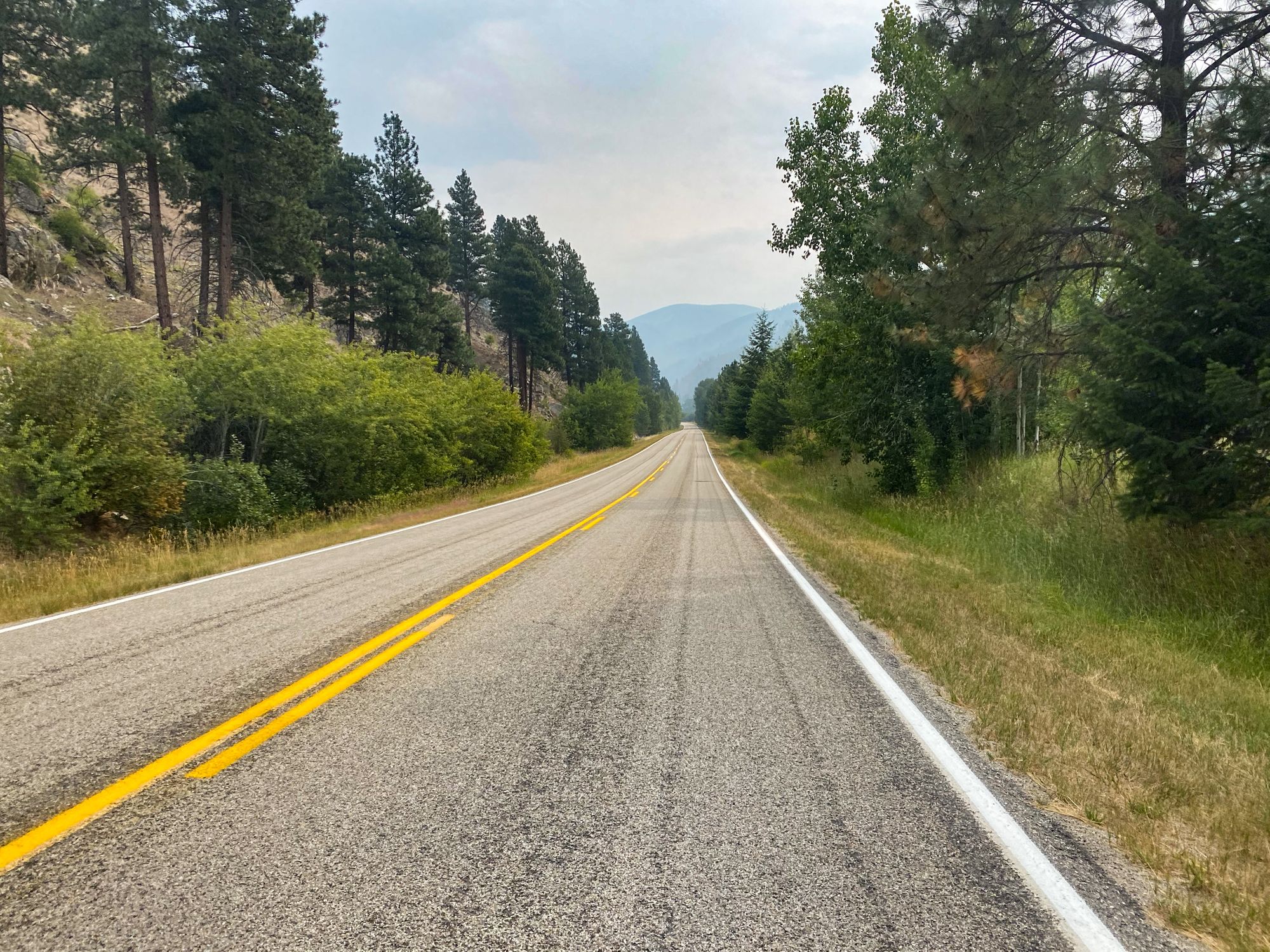 Sula to Hamilton was rather uneventful.  Nice scenery.  A little busier in spots.  Refuel in Hamilton was hefty in preparation for a longer haul as well as shifting rain gear to be readily available for anticipated afternoon showers.  The next section took us over Skalkaho Pass.  This was unequivocally one of my favorite parts of the race for scenery and difficulty.  The pass is a 45mile section of Hwy 38.  It traverses the Sapphire Mountains and is part pavement and part gravel.  The majority of the climb occurs over about 25 miles and gains 3600ft over that span.  It was slow going and wonderfully scenic.  My timing couldn't have been more poor.  I had watched the weather coming from the West for hours.  I had just summitted the climb and started to bomb down the backside when it began to rain in earnest.   Sweaty and coasting had me significantly hypothermic despite a couple stops to add all of my rain gear.  I was scared for my safety with the degree of chill I sustained in such a short distance.  I consulted my cues hoping the next town was not far off.  Sadly, Philipsburg was still 28 miles away!  I began looking for Forest Service shelters or anything to get me out of the rain to no avail.  My only plan was to finish the descent as rapidly as possible so that I could resume pedaling and reheat my core with effort.  As my ongoing less than ideal luck would have it, I was only a few miles from Philipsburg and rain gear stowed only to get stuck at a construction zone waiting for a pilot car.  When I looked over my shoulder the cars were piling up and rain was directly behind.  I was looking back possibly angrily muttering to myself…enough that the passenger in the truck behind me questioned me.  I apologized for my bad behavior and explained the whole bike race, impending rain, holding them up blah blah.  They laughed and we mutually decided that I should go ahead and beg mercy from the pilot car.  I think Janie had already chatted them up on her way by.  I expected to get yelled at and instead was ushered through and told "Keep going, you're doing great!"  Philipsburg was visible just up the road when the second deluge of rain hit.  I was forced to stop again and put on all the rain apparel. I left town quite cold with ongoing rain.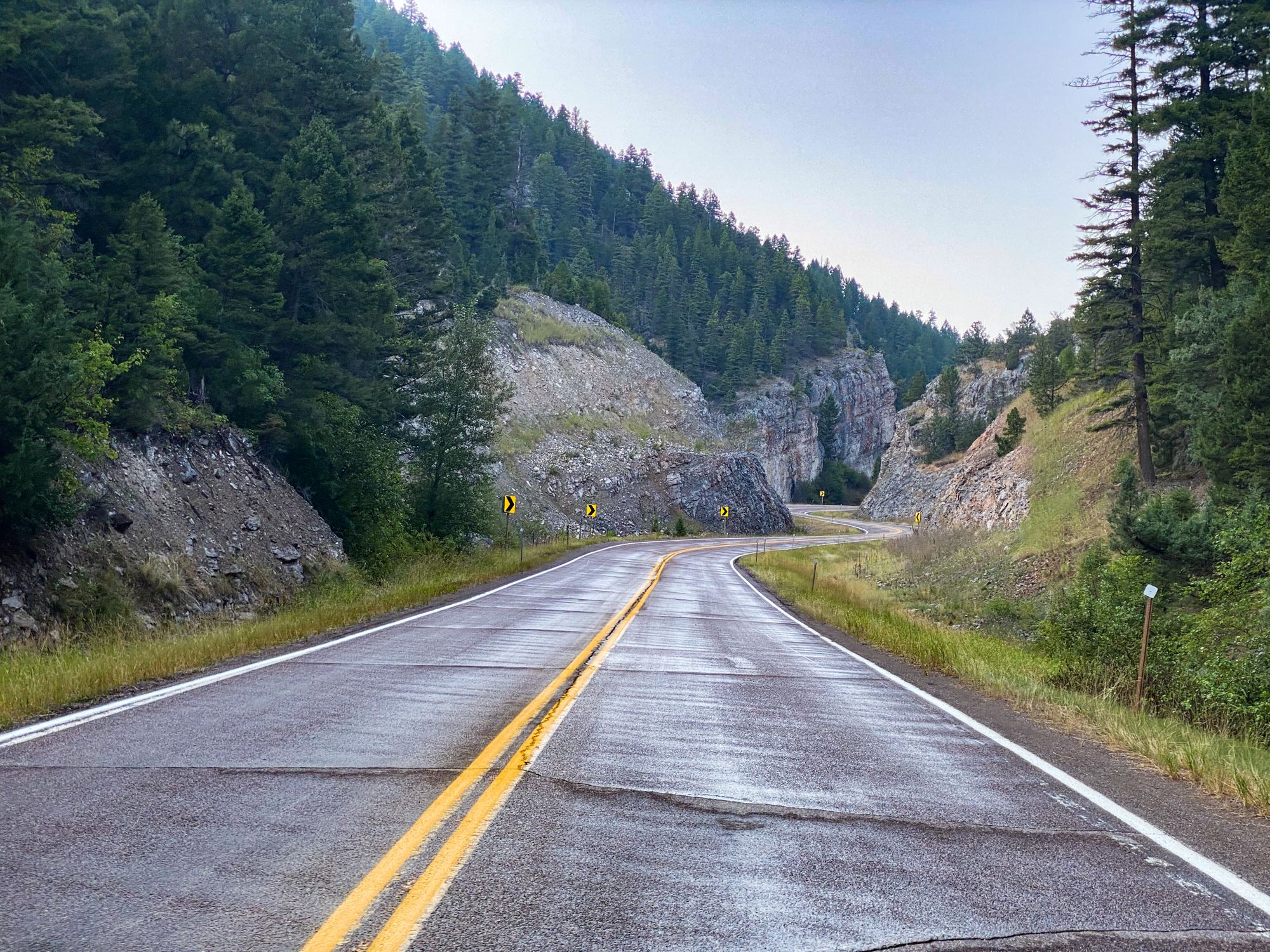 Rains cleared en route to Drummond with more stopping to strip gear.  Looking at my cues I noted I was about 80 minutes behind schedule, but there were only 44 miles remaining to Lincoln.  I felt I was going to be more than fine arriving before 10pm to acquire food there.  I was pretty pleased with myself and not hungry, so I left Drummond with minimal fueling.  It was almost 7:30pm.  My mistake.  I had forgotten the route and ignored the anticipated time interval to Lincoln.  Instead of a rather easy trek via the highway from Drummond we were routed through Helmville with a significant amount of elevation gain.  It was beautiful, but I had really messed up.  Now my prospects of getting to Lincoln before 10pm just got very tight.  I barely had enough food to fuel to town let alone have dinner, breakfast and fuel for 56 miles in the morning(I had an emergency stash of some food, but was hoping to save that for race finish).  I was crestfallen and began to race the clock to the point of utter exhaustion.  I rolled into town at 9:30pm and raced down the street to the gas station to refuel with all the foods.  Praise be!  The Three Bears Motel accommodated my late arrival.  I was so cold from the day.  I cranked the heater, draped all my soaked clothing around the room, languished in a hot shower after snarfing down all the foods and fell into bed unconscious again.
Day 3-When my race really started
268miles in 17hrs 59min, NP(134W)
The background story is as follows.  My coach, Greg, is a planning wizard.  He had generated detailed timelines based off of my data to guide possible choices along the route.  Before the race and after Greg's charting genius, I made some last minute adjustments to my bike setup and dropped several pounds in gear.  This would alter my plan some; to what extent would remain an unknown.  I am not always very tech savvy.   Before I left for Montana, my husband actually remoted into my computer via a Zoom meeting to help me print the cue cards from an Excel spreadsheet.  These would include this time map.  I failed to note that the cues I had chosen were Greg's data and not mine.  Before the race, Greg and I had chatted strategy some.  He mentioned that under perfect conditions he might be able to make the Virgelle Ferry on Day 3.  This was a critical piece to the race and some planning genius by Crowell.  The ferry only runs 7am-7pm on weekdays.  If you miss the ferry, you are not crossing the Missouri River for another 12 hours.  If you make the ferry, you will leave your competition hours in your wake.  Greg is a stronger athlete than me overall.  Mentally, I had resigned myself to the reality that reaching the ferry before 7pm would not be an option for me if my stronger colleague, Greg could barely make it happen.  I started my day thinking I had about a 0%-10% chance of reaching the ferry on time.  This was augmented by the fact that I had fallen behind Greg's plans for the last two days.  The only exception being one breakneck push to Lincoln that barely had me on schedule.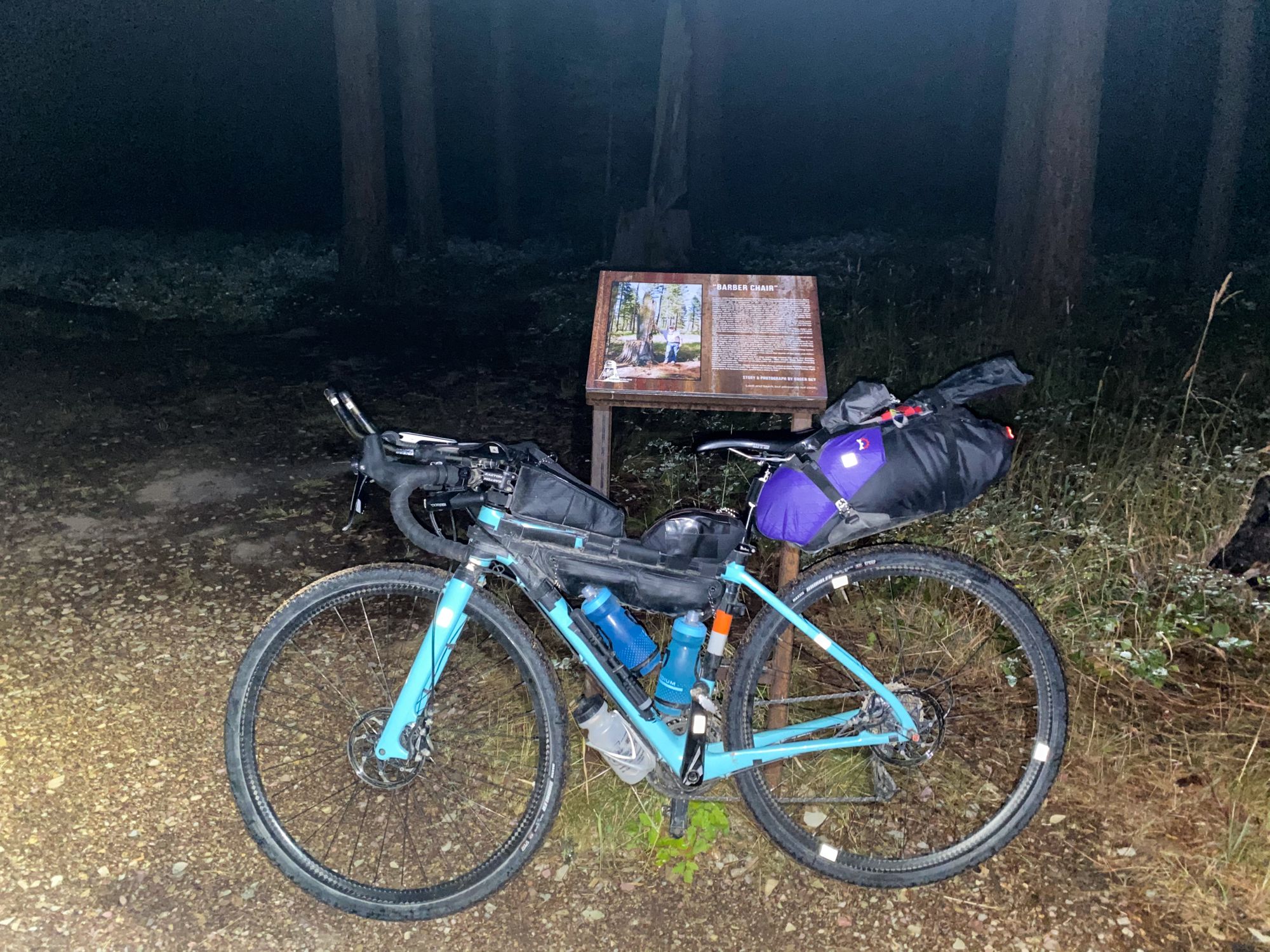 Roll out was at 4am and in hindsight I wish it would have been 3am. I had arrived to Lincoln late and tried to balance some sleep which was barely 3 hours.  I started with the Sculpture Park bonus.  Unfortunately, over time in my head, this turned into a photo of any sculpture and not the wooden castle defined by the RD(race director).  I headed into the trees in the dark and was moderately uncomfortable with my surroundings.  We had been warned of bear country and if ever I'd find a bear it would be in the dark woods at 4am.  I hastily snapped a photo of the first sculpture I could find and left.  I saw Greg's taillight in the darkness ahead, but then he disappeared.  I settled into my reality of pedaling bear country alone in the dark.  The bonus was very little highway traffic.  Lincoln Highway traffic is moderately unpleasant in a car and I had been dreading the prospect on bike.  I found Greg on the gravel secondary highway 434.  This beautiful strip of road parallels the Flathead National Forest with some punchy gravel climbs and sweeping views.  I was heartened to see that Greg was similarly reduced to granny gears to make the climbs.  I had been that way for some time with added prayers for each and every larger hill I encountered.  Greg's pump had failed him as had Evan's which is the same brand.  My pump is the same brand as well, but remained functioning.  We stopped so that he could borrow my pump.  In post-race analysis this was precisely seven minutes….thanks coach.  :). I love to climb and soon left Greg with his encouragement for me to stay on the gas.  It was going to be a tough day with minimal if any margin for error.
In Augusta, I made as quick a stop as possible and rearranged gear a bit.  Greg was close behind and left only a few minutes after me.  We were nearly on schedule(not really) for the ferry at 7:15pm.  This day had 72 miles of gravel.  The next gravel section was a bit after Augusta and it was incredibly slow.  The hills were long and steep, augmented by washboards and deeper sand.  I lost a significant amount of time here.  Hopes of the ferry were lost, so how better to soothe your soul?  Well pie bonus of course!  I stopped at Cozy Corner in Fairfield for some quick pie calories then rolled out.  Much to Greg's dismay, I rolled up behind him on the next gravel section as he was finishing the repair on a flat tire.  I was sad and somewhat worried to leave him behind, but was kindly chastised by the coach that I was burning up time.  Noted, but I'm not making the ferry and yet I can't help but keep trying!  What else was left for me to try to do except drive myself a little insane with the prospect of reaching the ferry by 7pm; possibly turning the tide on my race?!  Mind you I'm well over 45 minutes behind schedule now.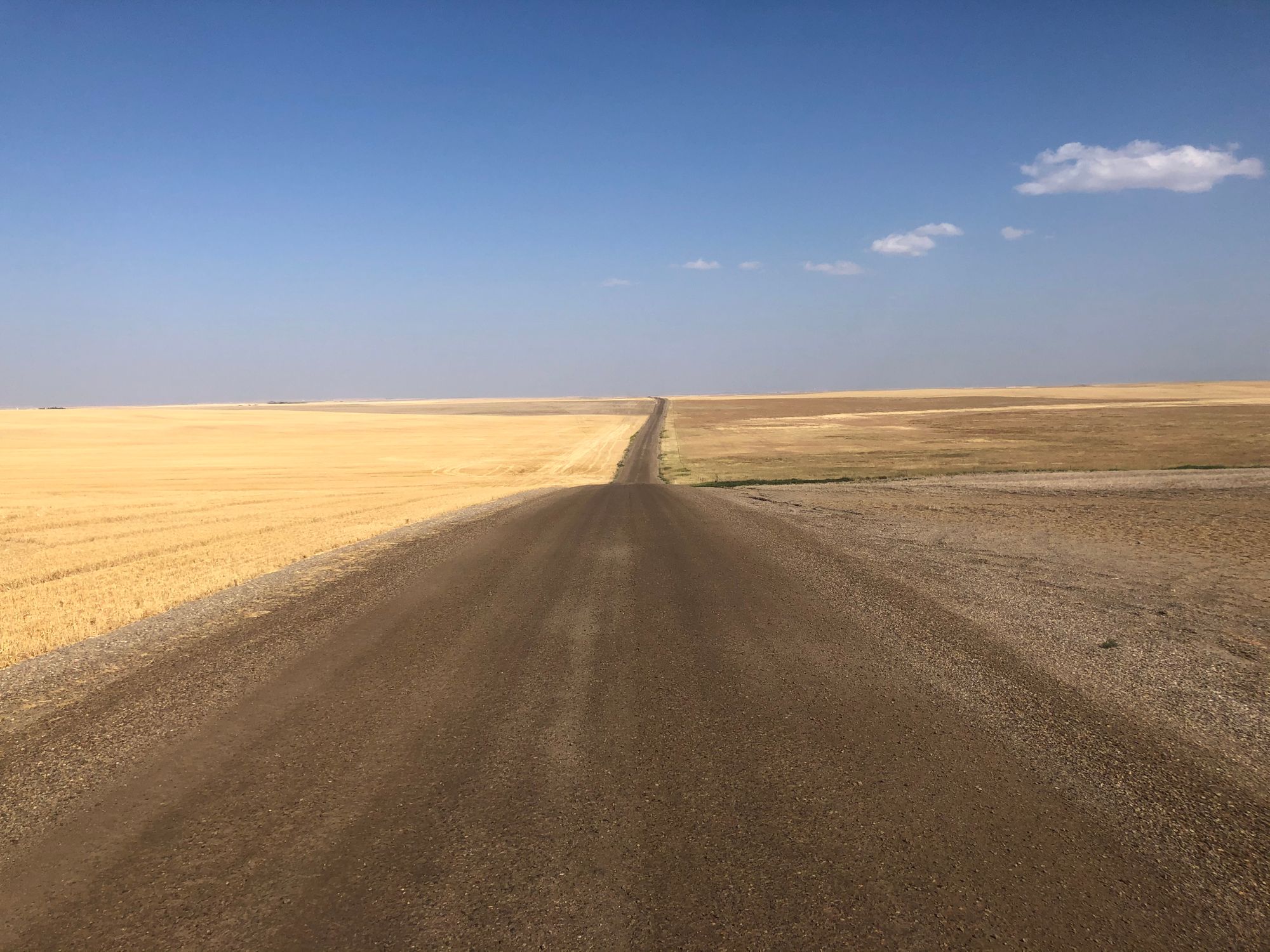 The day was shaping up to be a real bear as I headed into Montana's wheat/barley mecca, the Golden Triangle.  It was hot, cloudless, and a moderate wind was blowing out of the west.  Gravel was rocky, full of washboards and I was slow.  Conditions were taking a physical toll.  I had been following a solitary bike track for hours.  It had to be Janie.  This was reinforced by a small patch of red candies and candy corn left for me on a gravel climb.  Follow the candy trail and you'll find Janie…clearly!  I would later learn it was Evan.  Either way it gave my a laugh over my candy-loving ultra friends.  Dutton was a hot stop with minimal fueling options.  I loaded with lots of liquids and checked the schedule.  Shockingly, I'd gained a little time.  Tailwinds were helping me gain some ground.  What I knew of the course, we had miles upon miles going east.  It had to be too good to be true, but if I pushed hard, those tailwinds could save me.  My best recollection of this section was the endless gravel rollers through miles of open fields and nothing/no one around.  I'd quietly curse my slow ascent of every little hill.  It was so reminiscent of the Iowa gravel that I typically love.  The tailwind was ever pushing me forward.  Then magic happened.  I had gained a fair amount of time back with my effort.  I was nearly on schedule for 7:15pm.  What a disappointment this was going to be.  I could see myself rolling in just a few minutes too late.  I mentally prepared for a long rest and a final push to the finish…..except I just couldn't let go of the possibility of making it on time.  Upcoming pavement could help as well as a little east wind push.  I'd be heading NE to Fort Benton.  I floored it.  This was my last chance to make a move and shockingly could be attainable.  I met Crowell and his wife, Kathy, on the way to Fort Benton.  It was amazingly kind of him to be so far from home checking in on us with offerings of food and water.  I COULD NOT STOP!  In another time I would stop for the RD and thank them heartily for everything.  I waved and smiled and blasted by them, yelling over my shoulder "I'm racing the ferry"!!!  He made this course; look at the time!!  I can do this!   I had a plan.  I would call the Virgelle Ferry upon my arrival to Fort Benton and beg to see if they would stay late for me.  I had a master copy of all establishments with hours of operation and phone numbers.  I consulted my cues one last time.  I had 34.4 miles remaining.  It was 4:20pm.  Call Carrie at the ferry and beg; a short Fort Benton stop and pedal.  I called Carrie and told her my circumstances.  By my calculation I should make it by 7:15pm if not a little earlier.  I begged for 7:30pm and she said yes!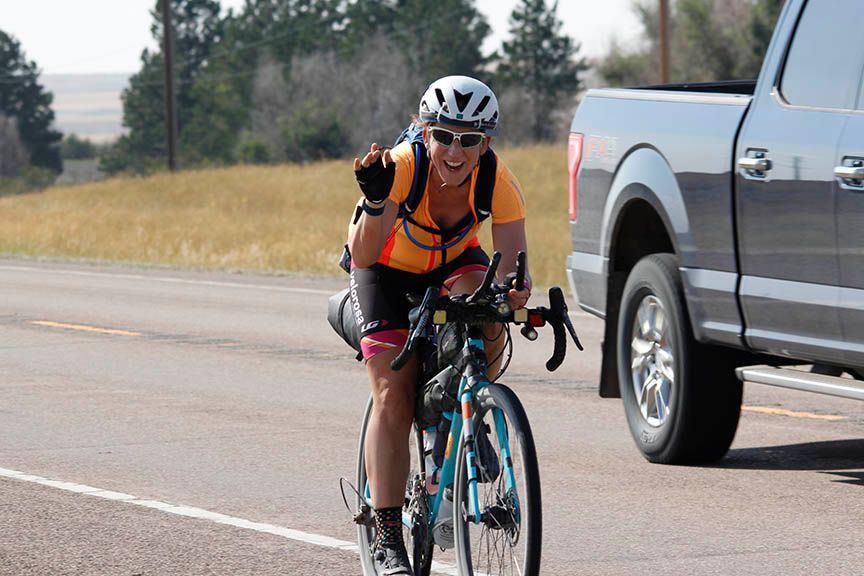 I made a quick pie photo stop at Ma's in Loma as I saw no cars to suggest more pie options and headed out.  This saved another 10 minutes.  There was a significant climb through the Missouri "Breaks"  on Hwy 87 and it was slow going.  I hurried the best I could to hit the remaining gravel section.  Nine gravel miles remained.  I had enough time to snap some photos and rolled in at 6:55pm!  I turned on my phone to messages/cheers from friends all over.  What a relief!  What a show.  I knew people were stalking the dot and had thought wouldn't it be cool to sail just under the wire?  The crossing was really neat.  The ferry is powered by a diesel motor and anchored to cables across the river.  It's been in operation since 1913.  After many thanks to Carrie for her kindness, and apologies for my 3 day old odor that had to cross any appropriate social distance, I collapsed into a jubilant heap on the southern shores of the Missouri River.  I called my daughter to wish her a great first day of school….life existed outside the race…just on my periphery.  I talked to Janie and Greg, learning they both had withdrawn from the race and failed at attempts to secure lodging in Fort Benton.  It was time to press on and wing it a bit.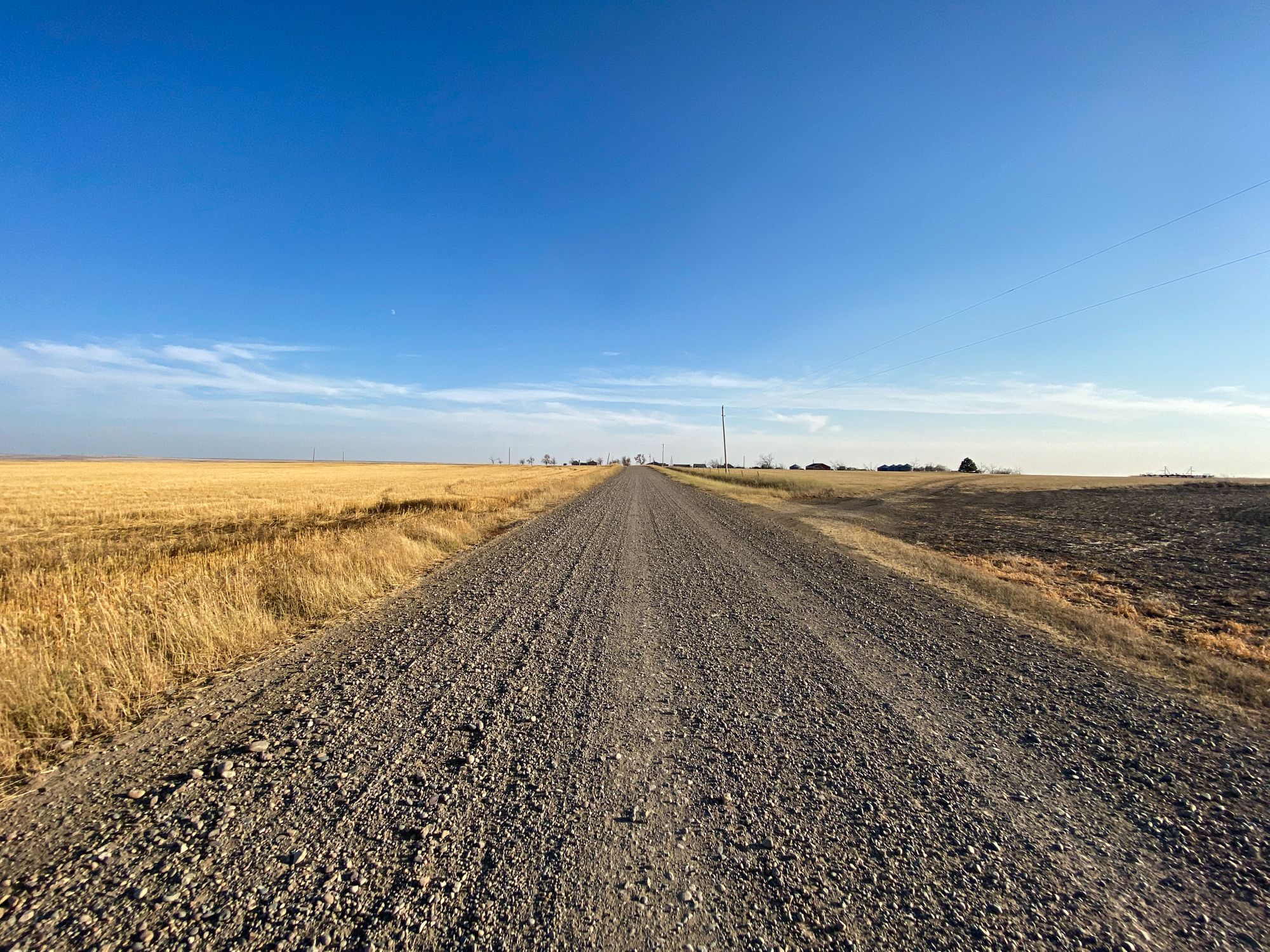 Loose plans were to return to Fort Benton for the night.  I miscalculated the distance, assuming a return trip of 34 miles only to find it rather 59 miles.  At this rate, it just didn't matter overmuch.  I was cautious at the beginning of the event.  Janie had provided invaluable advice.  Essentially, take care of yourself early on then decide later when to make a move.  With 320 miles remaining the finish felt very close and attainable.  I decided one more sleep would be adequate and then I would try to finish with minimal rest.  If that didn't work, I had just bought myself several hours of lead time and could afford to be a bit more flexible.  The race changed mentally for me in so many ways at this time.  With the ferry crossing, I attained a goal that I never thought I would.  My nearest competition was gone.  Evan was unreachable.  What was my goal exactly?  Coming to the race, it had been to finish and be the best me I could be.  Sounds like a solid plan.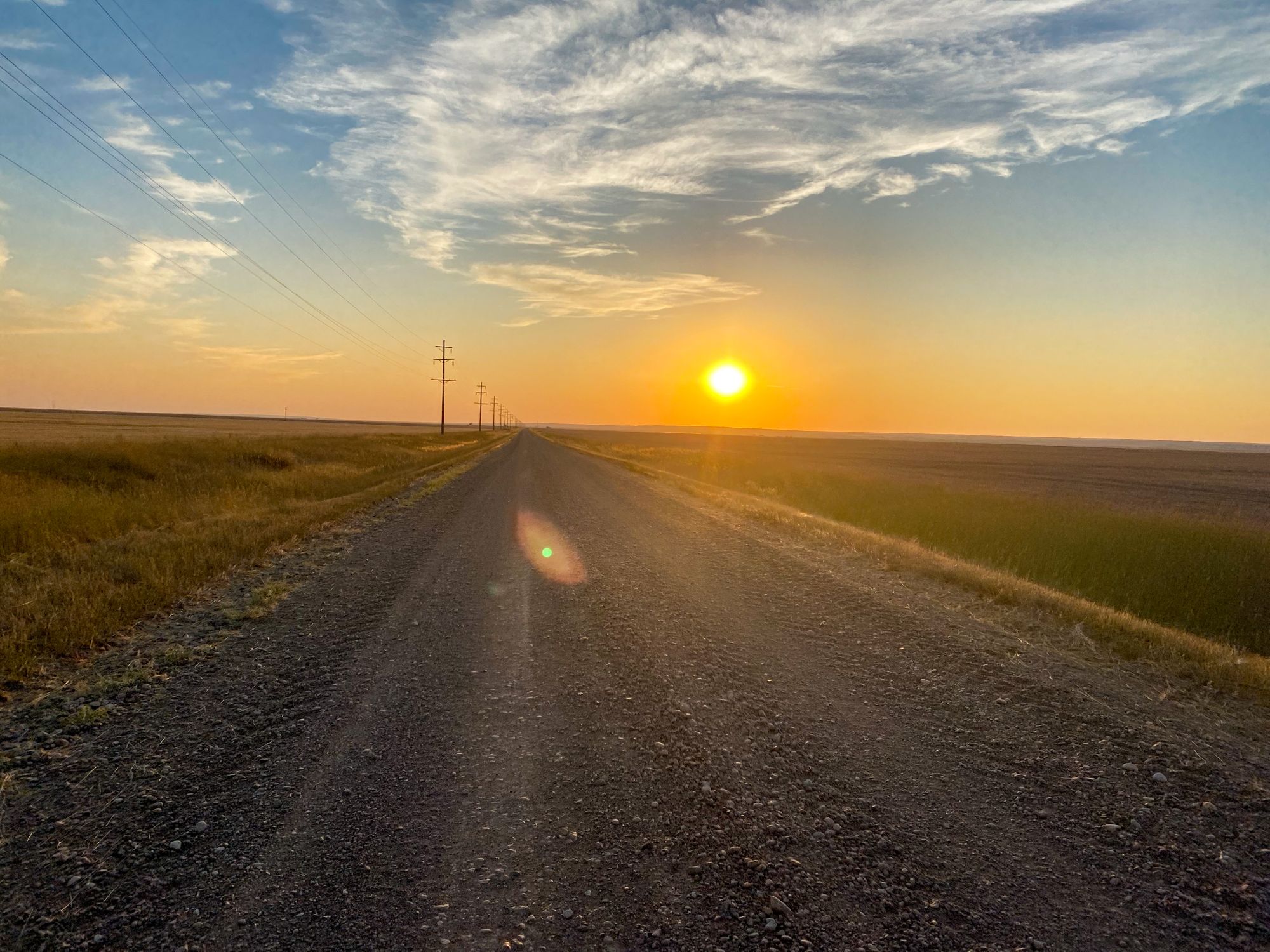 I took a little time to enjoy the sunset on a lonely double track farm road.  I was utterly alone.  There were no homes, no traffic, no crops.  I slowed a bit.  I had pushed for 15 hours to the point of losing enjoyment of the scenery in my frenzy.  I had earned some time to savor my surroundings.  Next stop was Geraldine on the longest, straightest gravel road I can ever recall.  I could see nothing, but endless washboards in the darkness.   I arrived at 10:30pm.  Just before bar close and just too late for food.  Darn.  The cook happened to be outside and after telling my tale she came in and made me a sandwich because she felt that I couldn't leave hungry.  Events like these renew your faith in humanity.  Kindness and curiosity come from everywhere and it is pure joy.  I left with water and cookies and a message that a room was secured for me at the Fort Benton Pioneer Lodge.  After leaving Geraldine, I encountered a badger at O Dark Thirty.  It hunkered in the middle of the road and flicked its tail.  I had brushed up on all manner of bear etiquette, but not badger.  We stared off.  I was not in the mood to lose a tire to a pissed off badger, so I blew my farm dog whistle a few times until it finally moved away.
I was grateful for my late night accommodations, but I will make other arrangements if I ever find myself back in Fort Benton.  I slept in my quilt on top of the sheets for four hours.  Time to move on.
Day 4
262 miles in 19hrs 49min, NP(130W)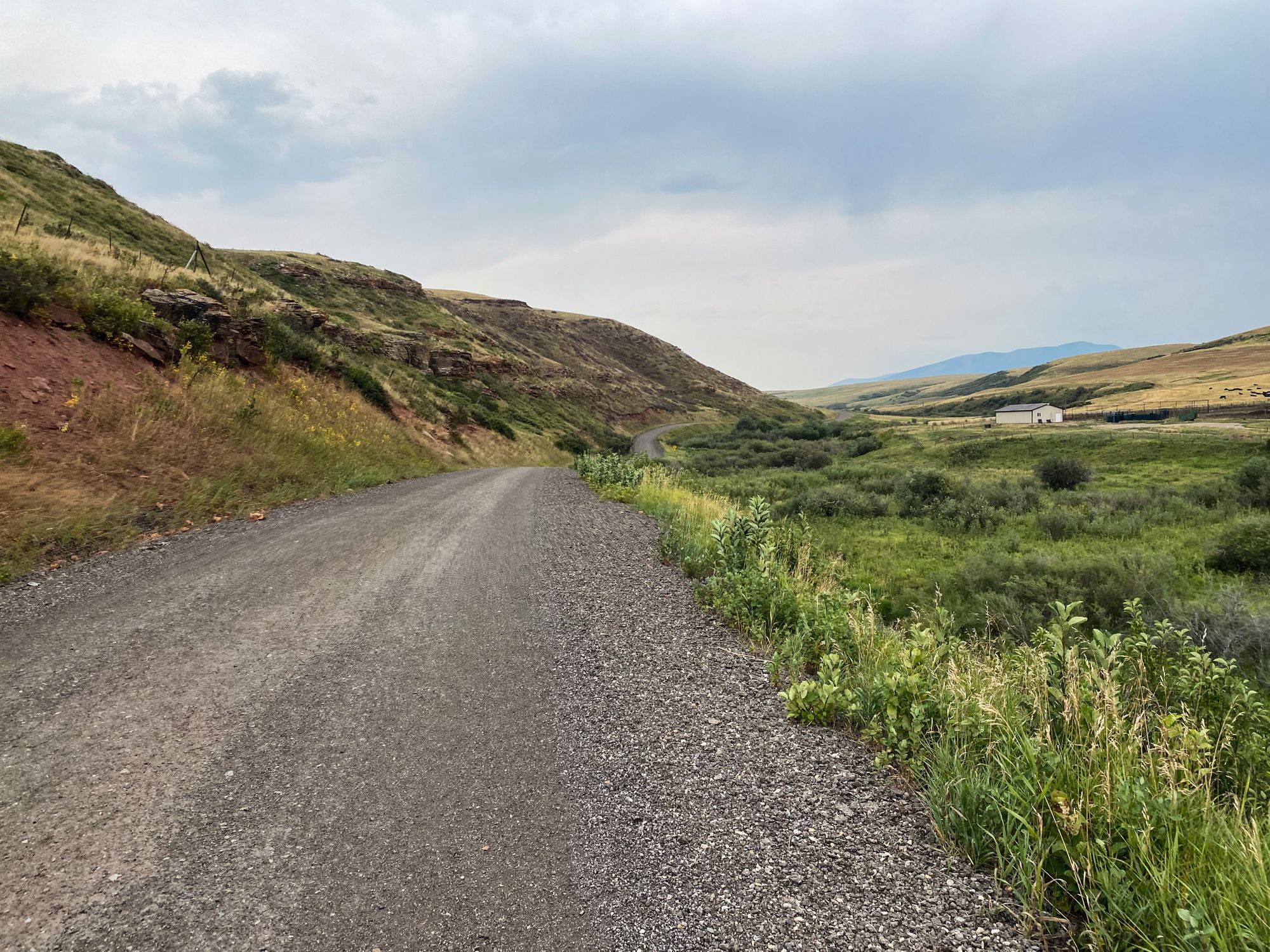 The route to Belt was enjoyable with views of the mountains and some climbing.  South winds and elevation gain did not have me moving overly fast.  The local grocery in Belt had a nice selection and was a welcome break from gas station fare.  Although I will say that anticipated gas station stops allowed me to plan future fueling while wiling away the hours.   I loaded up(pocket burritos were a new favorite) because food for the remainder of the day could be challenging until White Sulphur Springs.  Highway 87 was busy and I was happy to turn onto gravel.  The gravel became hilly and steep on Limestone Canyon Rd.  Greg and his wife drove by and gave some cheers on their return to Bozeman.  I was happy for the momentary company.  It had been a quiet morning.  The Monarch Cougar Canyon Bar and Grill was very accommodating and had food.  I stopped longer than I had wanted, but I was not going to pass up a food option when the next stop was nearly 60 miles away.  I was assured by the owner that once I reached the "top" I would not be pedaling for awhile.  Super!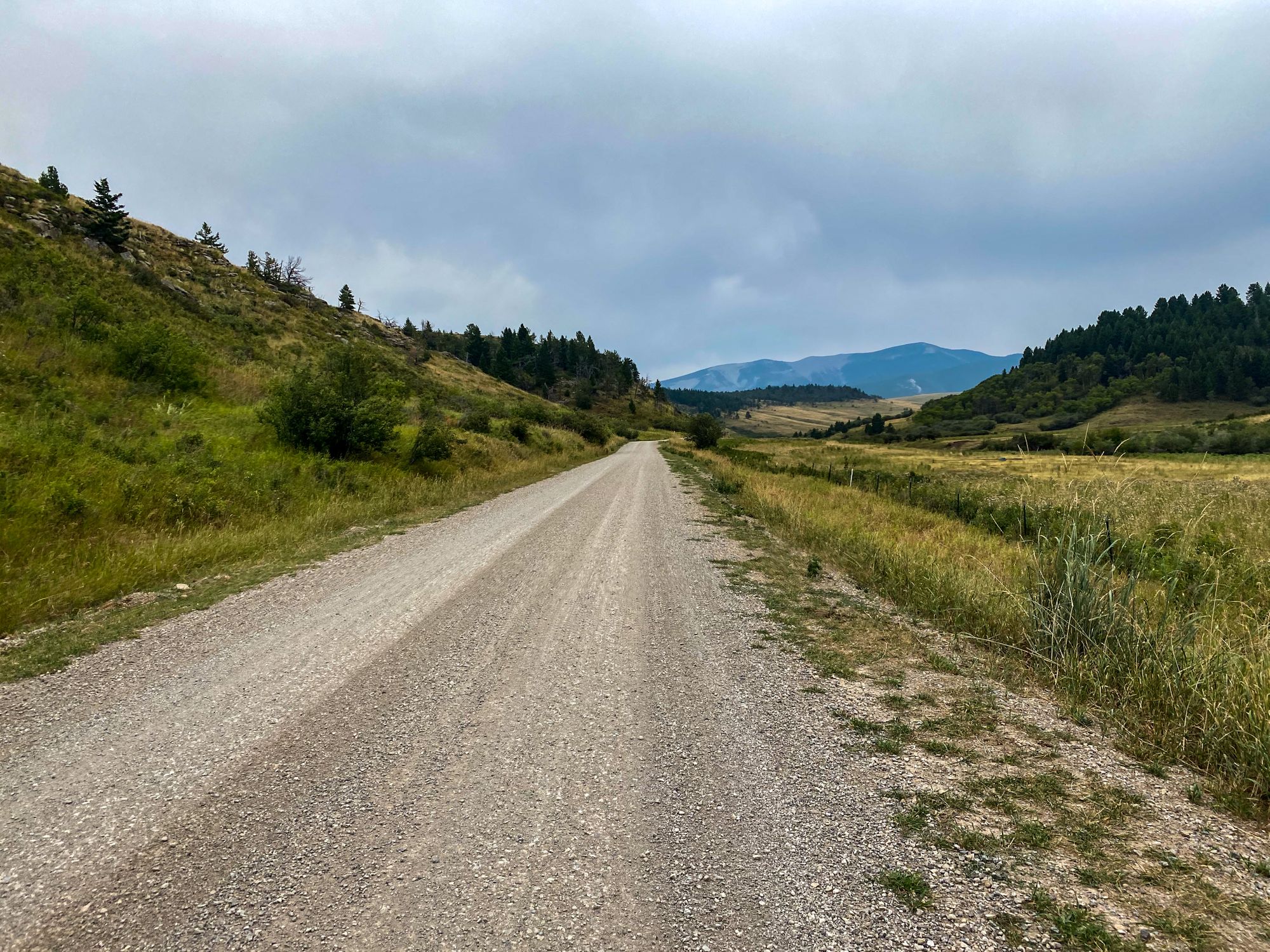 Fatigue finally caught up to me making King's Hill climb.  Garmin shows elevation change.  I'd been staring at my red screen for some time, but my perception was that the terrain was equivocal if not going down.  The ongoing rush from the roadside Belt Creek sounded so pleasant for a nap.  I couldn't take it anymore and pulled off for a 20 minute ditch nap only to realize I had been gaining elevation for a really long time.  My altered perception was moderately alarming.  After 20 minutes of rest, I felt significantly more refreshed and ready to try again.  Finally, I reached my long anticipated no pedaling, chilly descent.  Showers threatened, but never came.   The gravel around Newlan Creek Reservoir was scenic and that area has been earmarked for a future day on the beach.  I took a pretty generous stop in White Sulphur Springs.  This would be my last refuel until race finish 120 miles later. I was honestly working up the courage to ride through the night and was extremely grateful for Janie popping over for some brief company.  I made a quick call to my family, and ate what I could.  Gatorade had long become a necessary evil for ongoing calories.  The act of eating was effort and uninteresting.  I left a bit reluctantly, but I could not fathom taking any more time for prolonged sleep.  Time to be safe and smart and finish!
The night grew cool.  I added more layers.  I battled fatigue.  Somehow I thought it would be refreshing to sleep in the ditch after Martinsdale.  Those 20 minutes were much less refreshing and in hindsight my location was not ideal.  I pedaled on.  From here, I knew the route home, but somehow in my haze forgot how much climb would occur on this strip of road.  I was some frustrated with myself.  By the time I got to Ringling I was frozen.  I had tagged this area for possible water stop and assessed my situation.  I had drank very little with the cool temps and I was freezing.  I layered on every piece of gear I had with me.  The prospect of making it through the night seemed debatable.  En route to Wilsall, I caught myself dozing twice.  Thankfully it was the middle of the night with very little traffic, but it became abundantly clear that I could not continue safely.  Looking back it seems ludicrous to stop for so long being only 38 miles from the finish.  At the time, those 38 miles and the anticipated terrain seemed insurmountable.  It's amazing what fatigue and cold will do to addle your brain.
Wilsall is my back yard and their post office has now saved me twice.  I pulled my bike inside their alcove, heaped my gear in front of the mailboxes and promptly fell asleep.  I hoped they wouldn't throw me out at 3:45am and I was willing to beg for forgiveness.  I tried for 30 minutes, but I was so punchy I could not make myself leave.  After another 30 minutes I checked the temps.  It was 50F and expected to fall to 47F.  I piled on all my gear and left at 5am.  There is a decent little climb out of Wilsall to the gravel.  It was immediately apparent that 50F was not that cold after all.  With sleep and some rewarming I was stripping layers.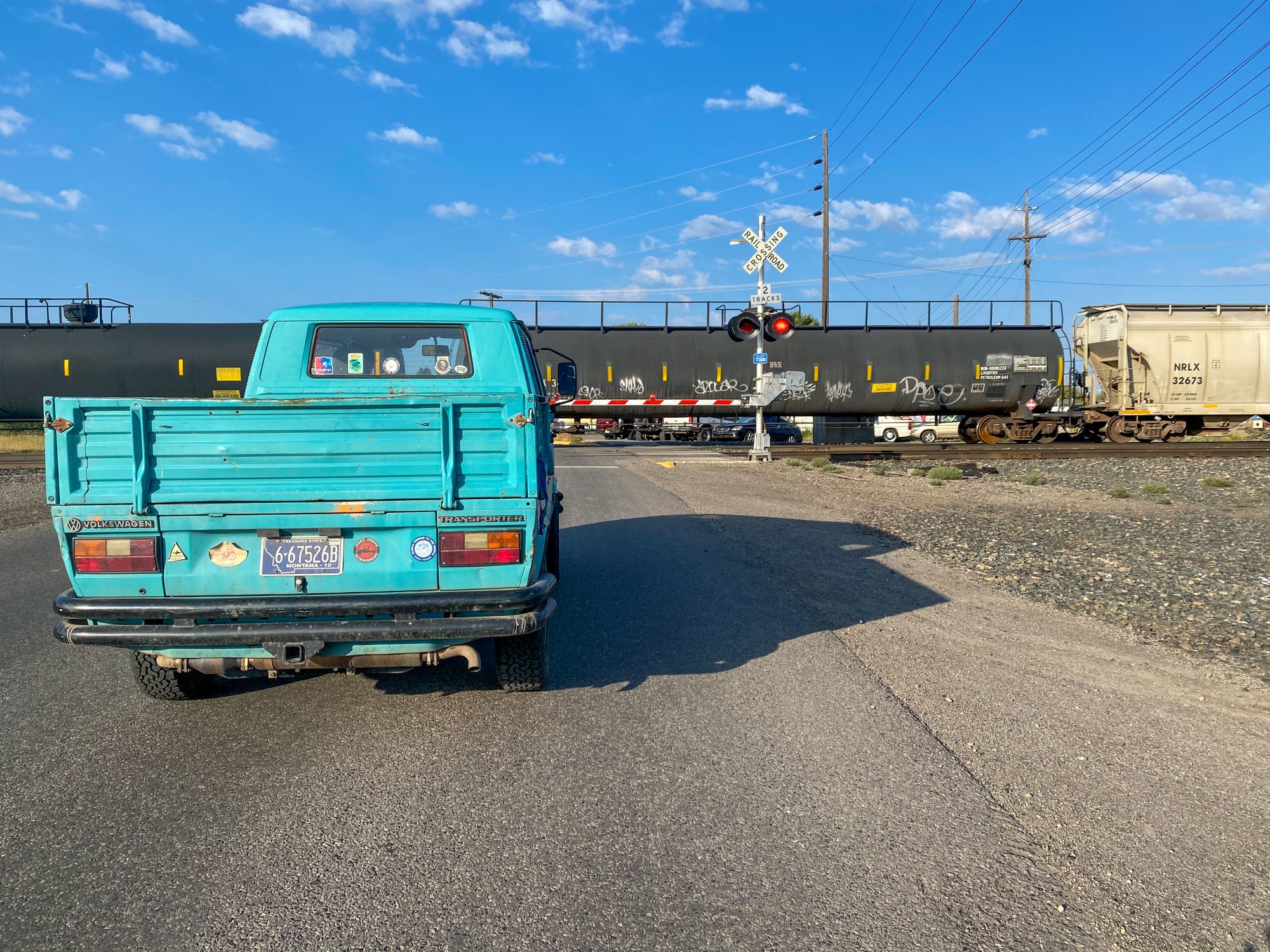 Sunrise was a welcome sight.  Sweeping vistas and my solitary bike headlight felt like something right out of a bike packing magazine.  I could never adequately capture it with a photo on my own.  My progress had slowed to a creep at this point.  I couldn't do anymore especially with Battle Ridge looming ahead.  That is one of my favorite climbs in the area, but it is respectable on a good day.  My simple goal was to not have to walk that climb.  I never have and was not going to start today.  There were some free range cattle.  They really do exist out there!  It was no surprise to meet Crowell at the top of Battle Ridge.  Once I could stop hyperventilating we finally got to chat a bit before I headed off on the final descent to Bozeman.  I of course got stuck at a train just blocks from the finish line much to dot-watcher's and my chagrin.  Trains and I have a thing.  It was awesome to see my fellow racers at the finish and the several other interested parties that came to cheer me in.  What a great feeling of accomplishment!
I can't say enough good things about this event.  It was planned to perfection and it was all I hoped it would be and more.  Crowell knew every store, hours of operation, and probably half the people in every town.  For such an expansive course, he was ever present.  I had a blast.  I achieved all my intended goals, learned so much about myself and racing ultra.  I certainly made mistakes and dinked around a bit, but overall I felt my performance was acceptable for my first multi-day event.  I left feeling that I graduated to the next level of ultra cycling and that feels so good.
Course details
968 total miles with a little over 43,000ft elevation gain
Approximately 178 miles were gravel and the remainder was pavement
8 racers started, 3 racers finished.
Evan Deutsch crushed the course in 3 days 12 hours and 44 minutes
Mike Vermeulen finished September 2nd after keeping a steady pace throughout the event
PS
Sadly, on September 4th, a forest fire started in the Bridger Mountains just outside Bozeman.  It ravaged the canyon we had ridden through to race finish and burned over 8100 acres before it could be partially contained.  Twenty-eight homes were lost.  Our property was several miles away, but under evacuation warning for a bit.  My favorite place will always be a little different going forward.  I'm grateful for our pristine ride.  I'm grateful for the strength and integrity of the people of Bozeman.  They have come together in the most amazing way.
Gratitudes

A massive thank you to Crowell Herrick.  You really designed a fun, special route and managed it well.  Your social media updates were so enjoyable and added an extra level of excitement for everyone following the race.  Thank you for your gift.  It was thoroughly enjoyed.
www.bigskyspectaculaire.com
As always, a big thanks to my coach, Greg Grandgeorge!  We've had such great successes for 3 seasons due to your structured training and race planning.  I've become a much stronger athlete because of you.   I'm happy to have out-performed the numbers.
Thank you to Kyle Robinson and the team at Kyle's Bikes.  You helped squeeze me in with tight schedules, you facilitated replacement of my QuarqDZero power meter(along with some fantastic customer service from Quarq), and prepped the bike to be in great working order for this event.  You take such great care of me!
Biggest thanks goes to my husband Dave and daughter Grace for their ongoing love and support.  I'm so very blessed to have you cheering me on.  I love you both so much!
Thanks to Janie, Evan, and Mike for all your veteran sage advice and candy corns to show me the way.  You guys are great!
Lastly, thanks to my Velorosa Cycling teammates for all your support and cheers!
Headline photo credit:  Kathy Herrick