Hoodoo 500 Race Report
Heather Poskevich's Hoodoo 500 Race Report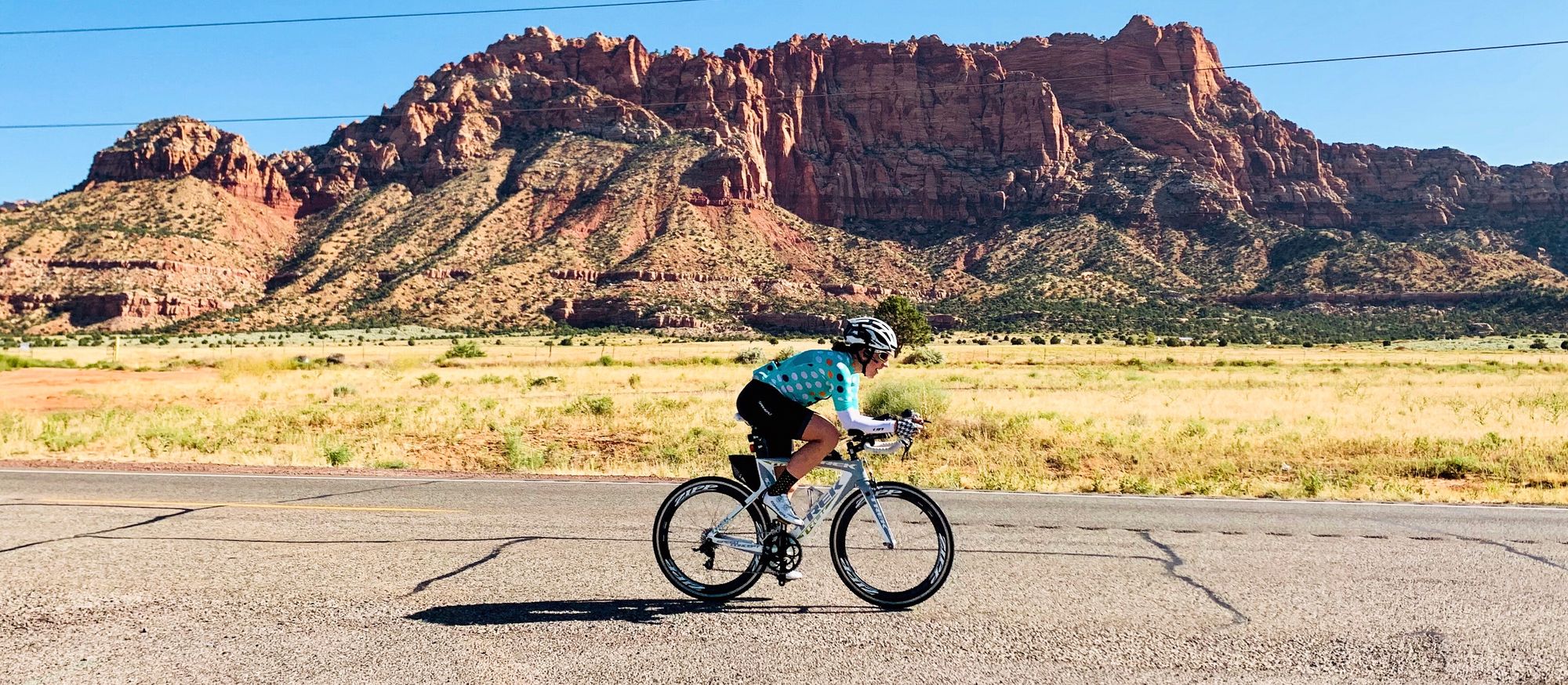 Race Priority:  A
Race Execution:  A-
Race Result:  A+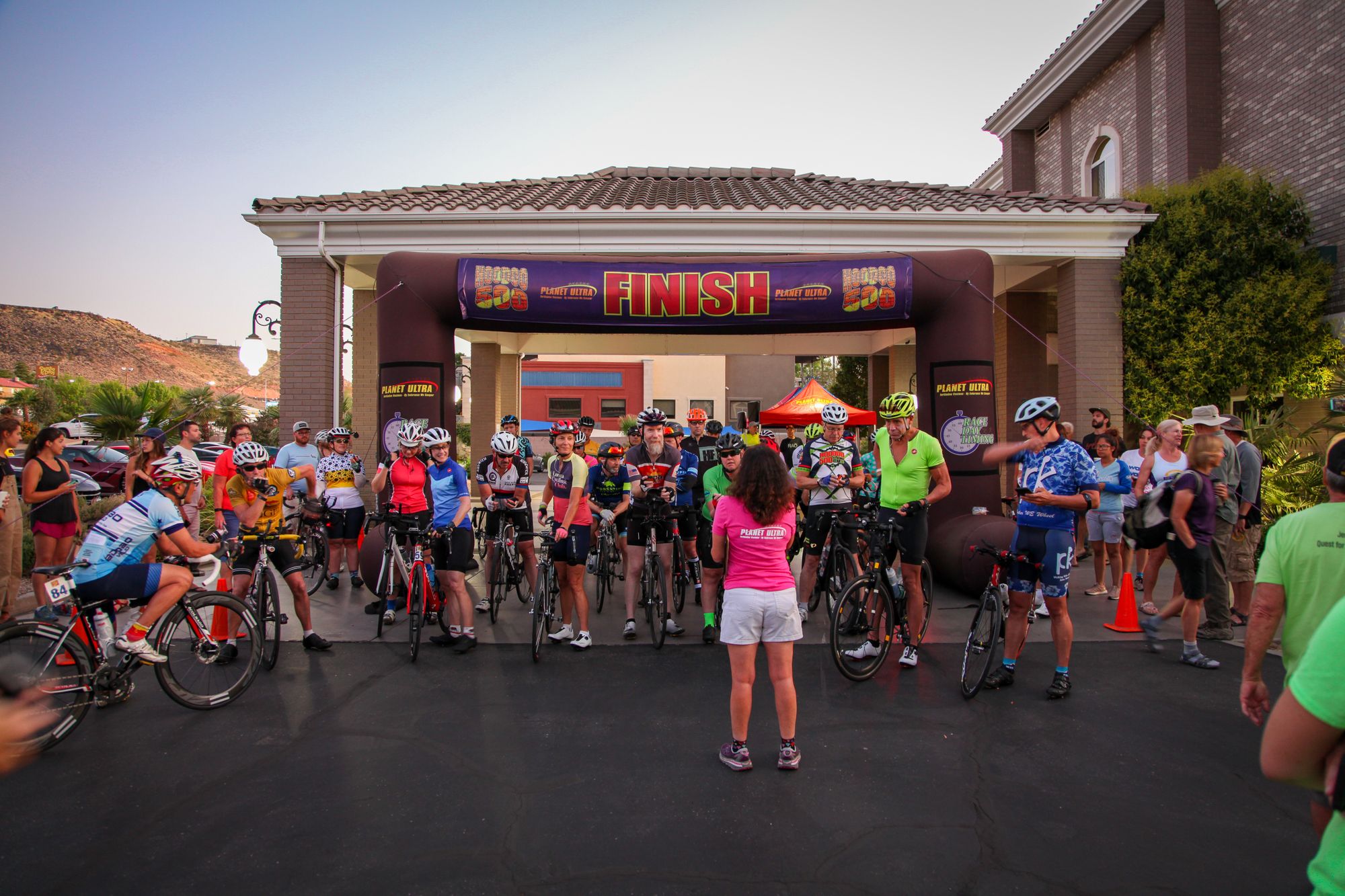 "Can I go now?"
I suppose I should disclose a bit about myself first.  I'm a late bloomer to sports.  Better late than never right?  I started cycling with earnest in 2015 for weight loss.  I started racing in 2017, but even that is a soft concept.  I had trained to ride the Double Triple Bypass in Colorado as celebration of my weight loss.  It was cancelled.  I still rode a nearly comparable amount anyway.  Then I had all this fitness and had heard mutterings of this 150-mile ride, Gravel Worlds.  Up to that point everyone asked what kind of biking did I like to do?  Good question!  I'm not sure?  I had felt ultra would be a good fit.  The long haul, the struggle, problem-solving, and why would you end a ride and all that epic scenery in 2 hours when you can go for so much more?  So Gravel Worlds became my first solo race, on a whim, since the family and I were traveling to Nebraska to watch a solar eclipse anyway. I finished the race and the hook was set.  It was at that event that I met my now coach, Greg Grandgeorge.  And so began the journey to race for real.  The only reason I really share this background is to highlight a couple issues.  One, I'm still pretty new to ultra cycling.  I've got a few bigger events under my belt:  Dirty Kanza, Spotted Horse Gravel Ultra twice, 24 Hours of Cumming, Iowa Wind and Rock, and a repeat Gravel Worlds with a much better result.  Two, I have an incredible knack for getting a wild hare and taking the plunge into something really epic without fully taking into account all the little intricacies that may be involved.
Enter the Hoodoo problem.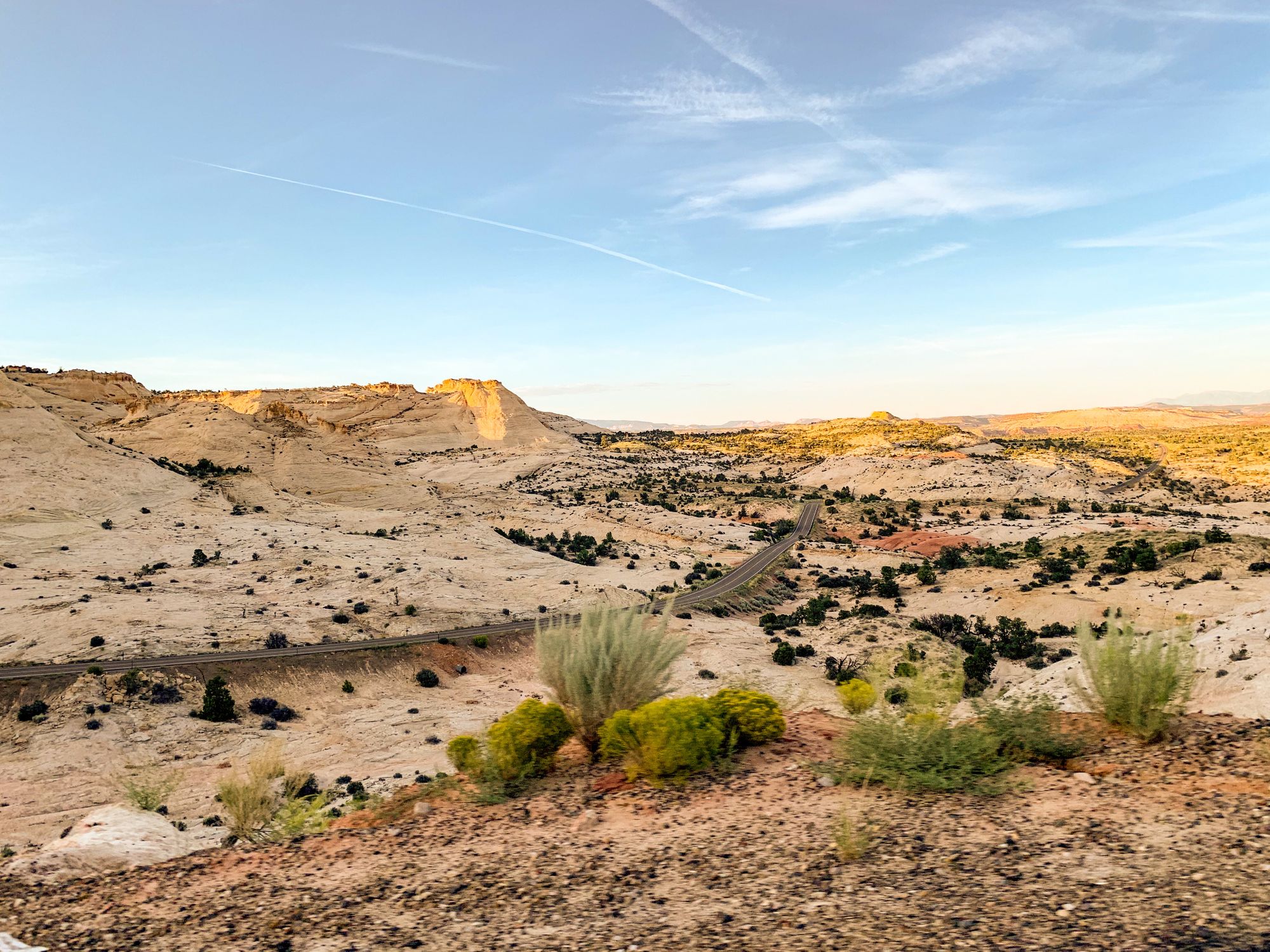 While building fitness on my CycleOps Stationary bike in the basement for some years, I pedaled away to the St. George 70.3 video course on Rouvy. This reinforced my love for the area after a visit there in 2015.  I vowed that I would someday race the region. An homage of sorts to all the hours I've invested to get to my present state; a celebration of celebrations.  My racing background is exclusively gravel and unsupported events to date. This year's Iowa Wind and Rock proved to be a respectable challenge, but pacing guidance from Trans Am winner Janie Hayes, and my coach Greg, provided valuable mentorship.  After finishing 337 miles of gravel in a little over 31 hours I felt that Hoodoo was attainable.  Well thank goodness for that because in my typical somewhat analytical yet wild hare behavior I'd already paid for Hoodoo!  Besides the region, Hoodoo had the appeal of a lot of new experiences.  Having started cycling on pavement, this summer seemed like the right time to return to my beginnings of sort.  In my perception, every time I'd break away from gravel and take to the pavement, I was sobered by the feeling that pacing is a little different and somewhat relentless in comparison to gravel.  Probably because my skills needed some improving upon.  I felt that this would be an opportunity to grow those skills and broaden my racing background.  Additionally, having a crew would be new, appealing and really give the opportunity to ride all out in a pure form and perform to the best of my abilities.  Lastly, the most alluring aspect was the course.  It had all the pieces that I wanted; sweeping scenery, the possibility of widely fluctuant temperatures, the challenge of racing in the desert and relentless climbing to elevations that would cater to my Montana-born, mountain-loving self.  All of this would transpire over a distance that promised to try personal resolve to finish.
I hope this paints the picture of the absolute whimsical hare-brained nature with which I started this journey.  Thank goodness all of this is offset by a competitive and strong Type A personality.  Once I woke up from my daydreaming, I realized I had set myself up for an absolutely monumental task of making this event come together in what I hoped would be a fantastic personal success.  I won't lie. I scared myself more than once with what I had chosen to do.  What I will say is that a lot of life hardships have proven to me that stubborn persistence paired with thoughtful execution will carry you far in many things. So I largely felt prepared for this task.
The Planning and Equipment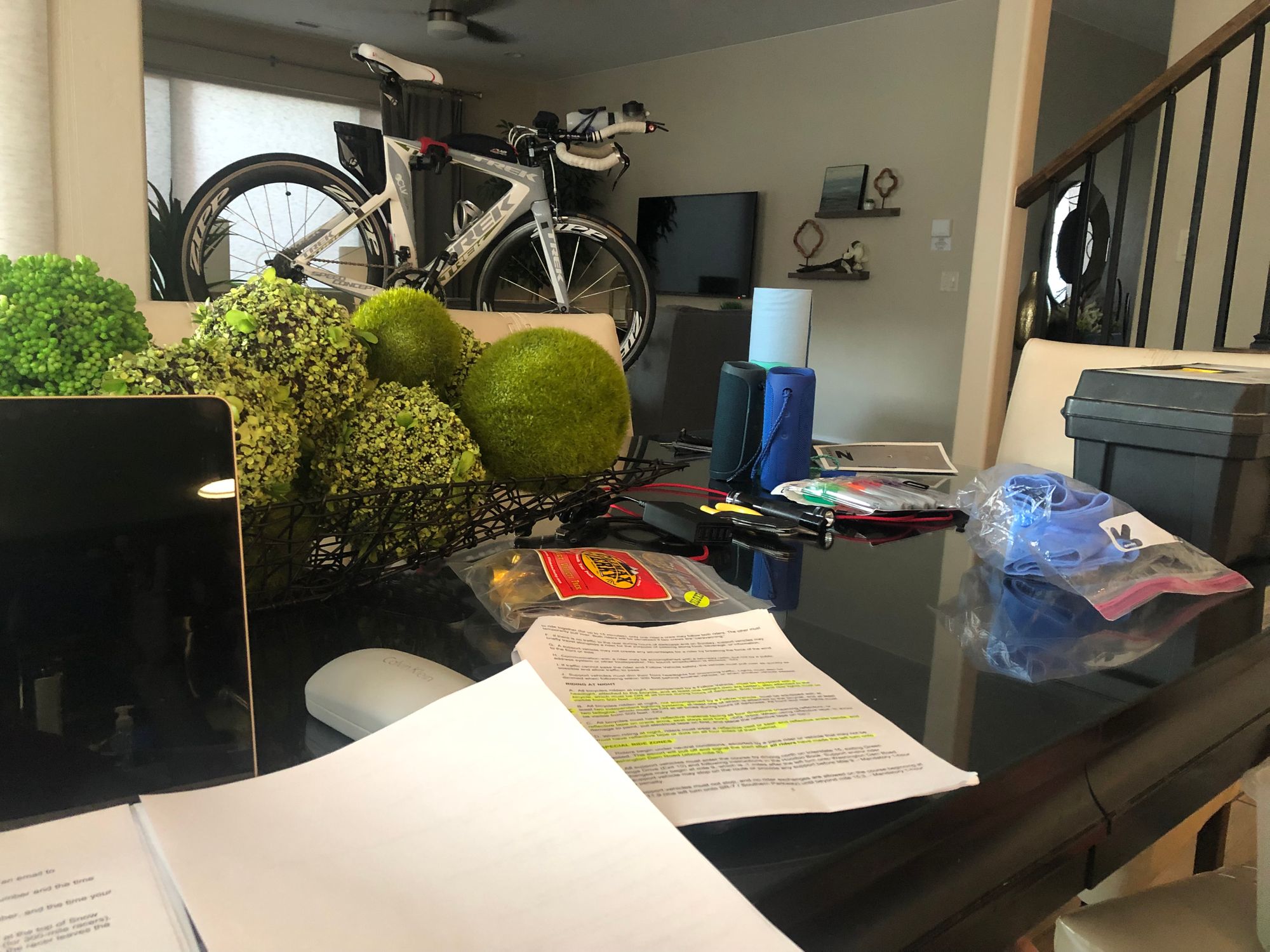 My coach, Greg, sets up fantastic training plans and in my mind has a special skill for tailoring to individual needs.  Plans were adjusted as needed through this process because I sometimes like to dig myself into a bit of a hole.  This is our second season working together.  The growth has been an enormous leap forward for me and I was excited for this new adventure.
I left gravel behind and transitioned to purely road-riding. I was too new to train on gravel and transition to the road effectively.  I can say after a summer of pure pavement riding, I will be better equipped to use both mediums effectively going forward.  My Trek Emonda was transformed to the best of our abilities to a race worthy steed.  This was accomplished by replacing my Aeolus 3 wheels with a borrowed Zipp 404 front wheel and Zipp 808 rear wheel.  Tires were 25mm Continental 4000s.  HED aero bars were added for aerodynamics and were an easy transition as I have aero bars on my gravel bike too.  All of these items were borrowed from Greg.  Additionally, we made the decision to add a time trial bike for the flatter terrain and so I sat a TT bike for the first time ever this summer.  She's a borrowed Trek Speed Concept outfitted with Zip 404 wheels and 23mm Continental 4000 tires.  She is affectionately and aptly named Punisher by me.  All good bikes should have good names.  As much as she initially beat me up with the new body position, it was my hope that we could do the same to the flatter sections of the course.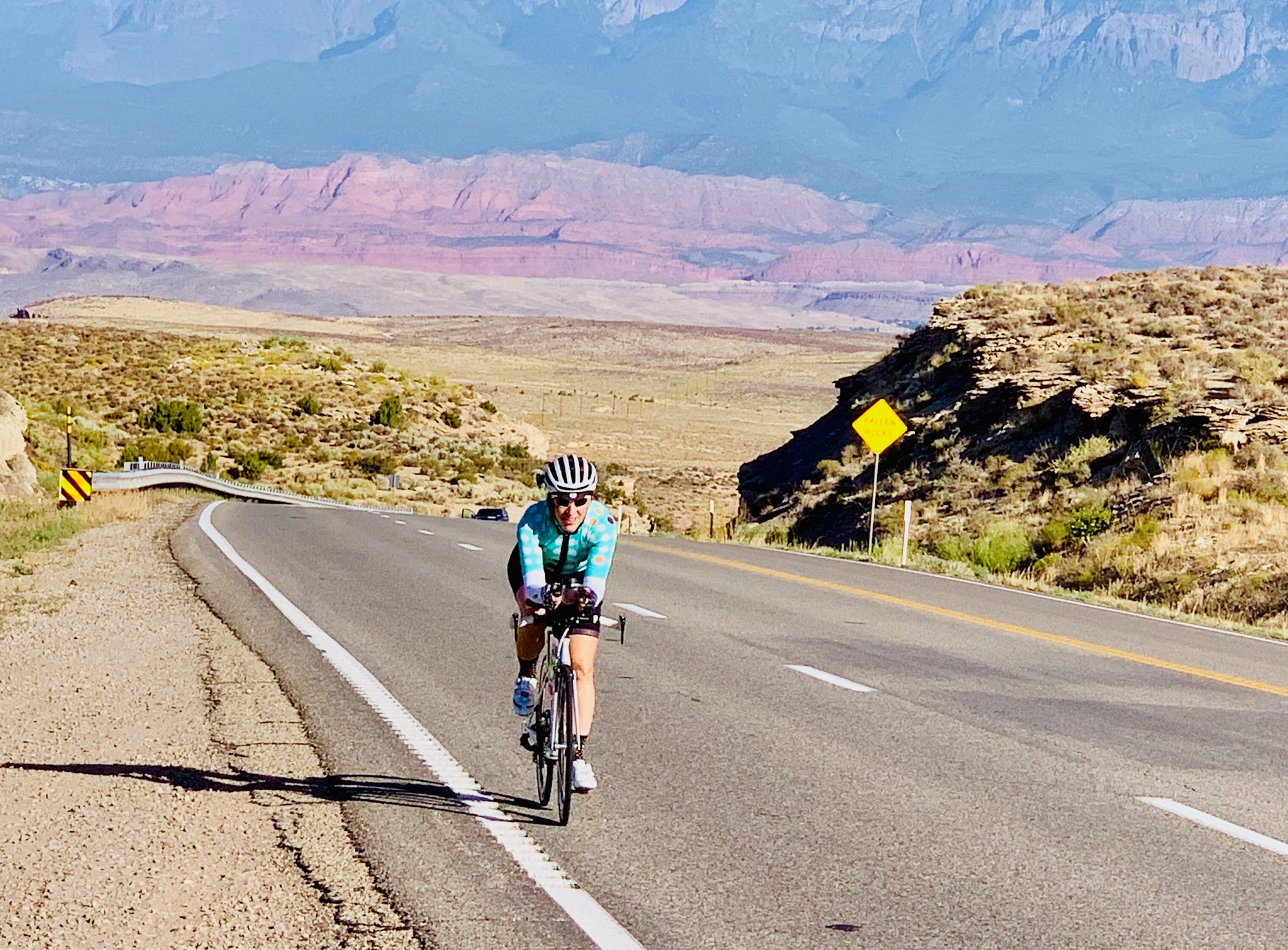 The next big logistical leap was crew.  Enter Brad Stoermer, Joe Short, and Jenn Borst.  I had already talked Brad and Joe into the mix.  Jenn was soon to follow.  They were the trifecta of awesome.  Each of them is a fantastic athlete on their own.  They are strong cyclists paired with the background knowledge of serious racing.  I couldn't have hoped to have a more solid group of people with which to share this adventure.  None of us have ever crewed or been a part of a supported race.  Thankfully Sarah Cooper, Steve and Kathy Fuller, Joe and Connie Mann, my coach amongst others were ready to offer advice in great detail. After interviewing Sarah and Steve over dinner one night, that may have been one of the times I scared myself.  I realized the absolute precision and thoughtfulness that was going to be required to be competitive in this event.  I left with more questions and concerns than when I started.
Transportation of myself, bikes, and crew were arranged by my amazing husband, Dave.  He's IT/Project Manager by profession and I tease him often that sometimes his role seems to be that of an adult baby-sitter; to include getting his wife to the start of this race!  He drove our rented van, the bikes, and gear out and back to allow me to fly.  That is mighty fine if you ask me.  He helped purchase lights, signs, cables, chargers, and inverters so all of the technology aspects of the race were covered as well.
My coach generated charts detailing out proposed hourly fueling, power plans as well as opinions on bike swap locations.  I spent a fair amount of time combing over the specifics of the course.  Namely, I was interested in the larger climbs.  I wanted to know how long, how steep and how much effort was going to be involved to pace myself accordingly.    I was hopeful that the time stations would not be too cluttered with other crews in hopes of relatively quick turnarounds because they were all well-positioned along the course for stops.
I've become somewhat paranoid over bike failures.  Thankfully Kyle's Bikes took care of my worries. Both bikes were appropriately blessed pre-race.  We were sent with a care package of all the common potential things to break as well as a borrowed hanging bike rack.  Kyle promised to answer the phone at 2am should we have need of his expertise, but thankfully he got some restful sleep!
Lastly, since I had the luxury of arriving a few days early, I spent some time riding the beginning and finish of the course.  The finish would be crucial to avoid errors after over 30 hours of cycling and having to finish without the crew.  I wasn't imagining I'd be pulling to a full deck at that point and questioning turns would not go well.  I also found the extra time useful to adjust to the wall of dry heat that the lower elevation desert has to offer.  Not hot and humid like Iowa and not hot and dry like the slightly more kind Montana, but a literal WALL of heat.  I love heat, but I had to admit that I was a little alarmed by how hot it really was. Thankfully the majority of the race occurs at much higher elevations and temperatures are more manageable.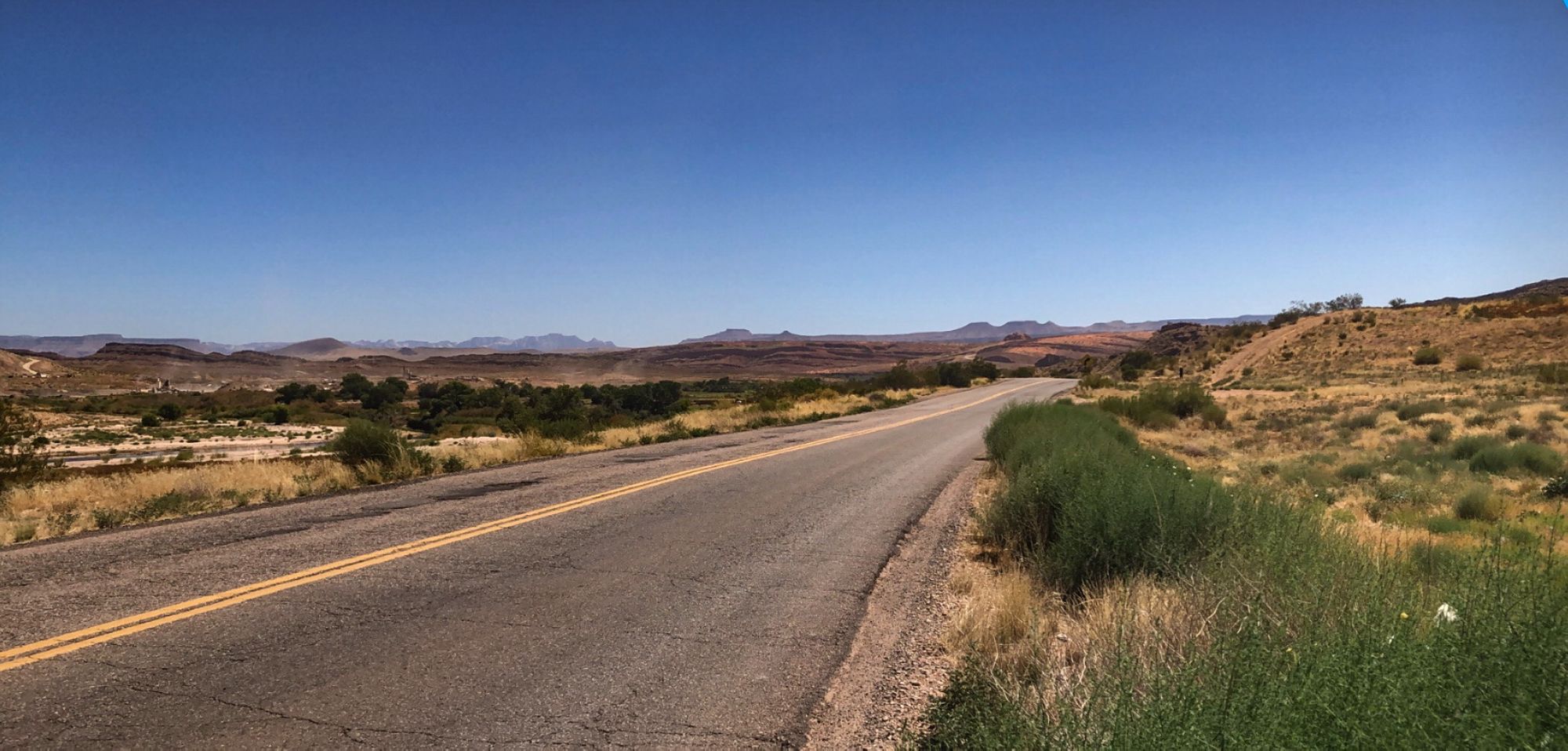 Race Check-in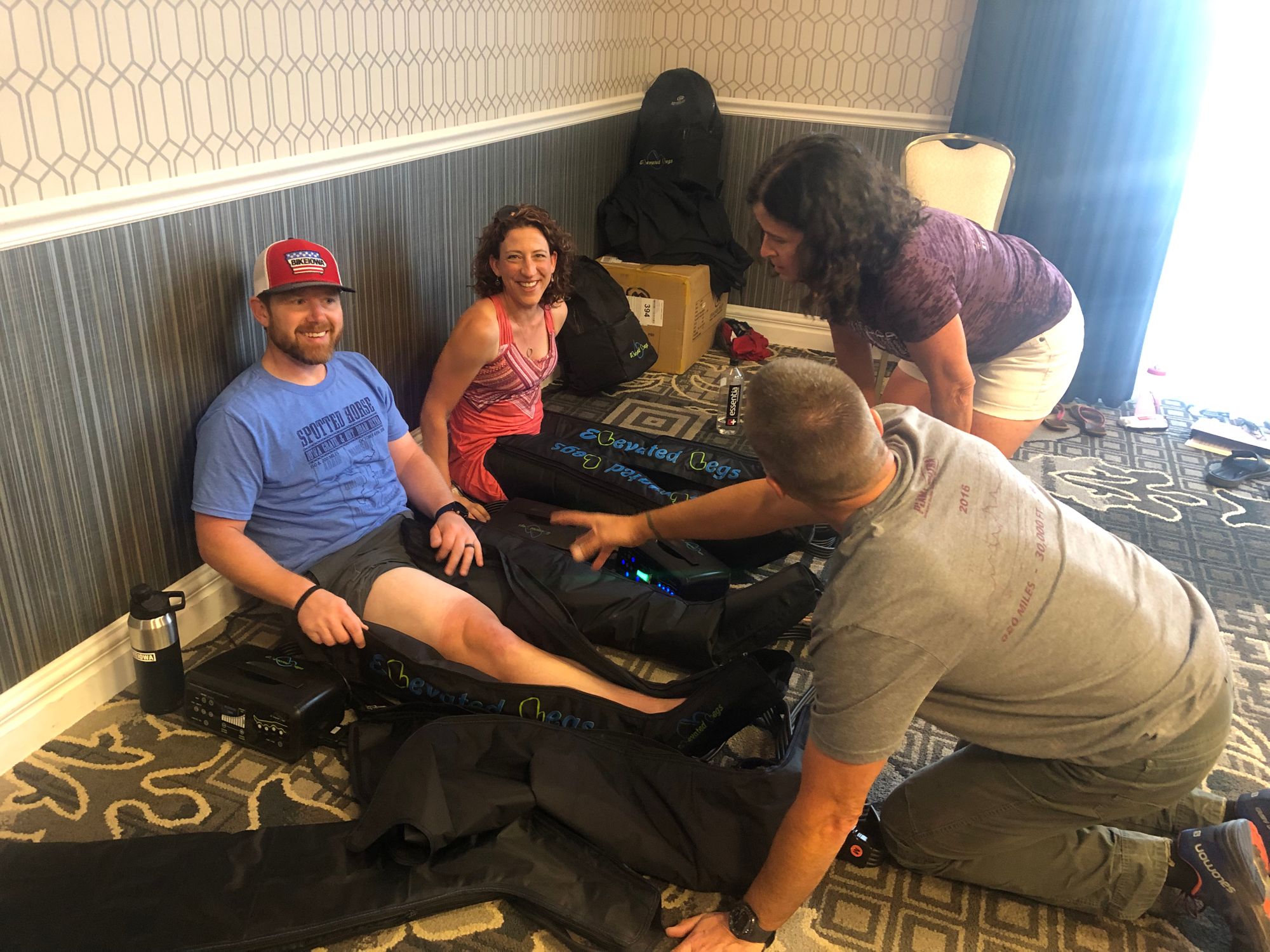 Check-in was a well-organized affair.  We had our photos taken and received our packets.  We had a race meeting to outline a few more specifics, meet fellow racers and that was all.  We then headed home to finish the final loading of the van and go to bed.
Race Morning and Roll Out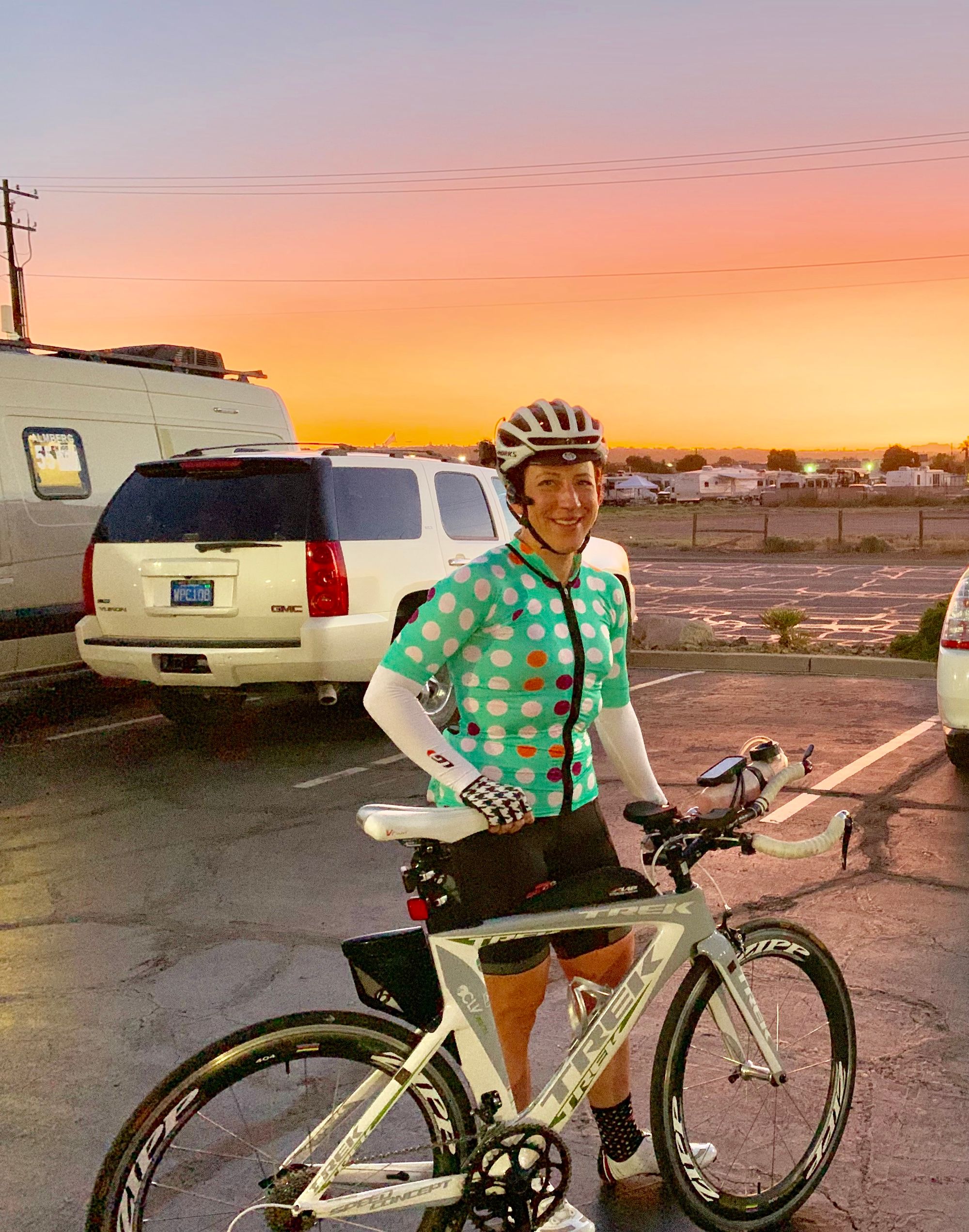 Race morning began at 4:30am after barely 6 hours of fretful tossing and turning.  I had my usual breakfast of protein-rich yogurt, some cereal, berries and coffee. I wanted to warm up a bit, so I opted to pedal a few minutes at home first.  Glad I did because Punisher decided she did not want to recognize her power meter for some time.  Small crisis number one averted.  We made it to the start a little early so I could pedal some anxious laps around the hotel parking lot.  At the start, we realized my heart rate strap was not paired to Jenn's Garmin.  After some quick random selections of HR straps mine was an easy find.  The reading of 129bpm just standing there waiting; that's me.
Tracking devices were all started then the official start of the race began.  We had a neutral roll out without our crews for about 9 miles.  The pace was comfortable and gave me a chance to chat with a few people along the way.  I ended up chatting with the 1st male solo finisher Tim James as well as Eric Pearce. I was excited to put a face to the name with Eric.  We had seen his very detailed planning on his website.  He left me feeling like my preparation may have been lacking by comparison paired with his years of solid cycling experience.
The Real Start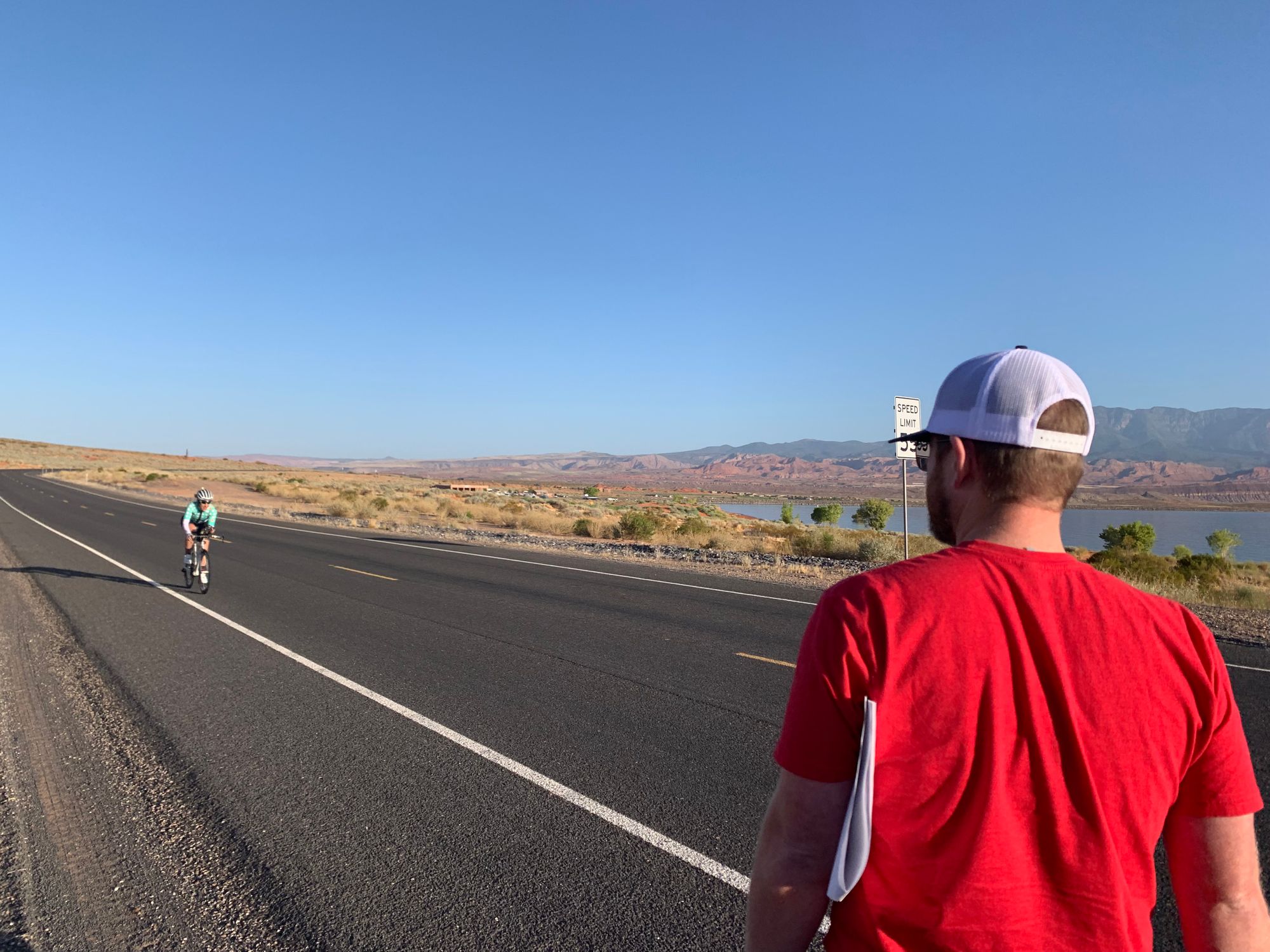 After the neutral roll out, the race really took off.  Bikes and crews were surging ahead.  As a first crewed experience, I wasn't sure where I fit in.   I just elected to hit my targeted pace and see where I fell out in the field. Unfortunately, not too long later my pea-sized bladder would have to be addressed.  So 15 minutes into my race, my crew had to help with the first bathroom stop.  Once that silliness was out of the way, I finally felt prepared to ride uninterrupted for a prolonged period.  I was happy I had ridden the early miles of the course just to have something I truly knew. I knew the climbs that were coming and the terrain.  I didn't know how the crews would interact with each other or the other racers.  I had a slight fear of being too close to other bikes and being at risk of interacting with another rider for too long. These fears all turned out to be unfounded.  Crews spread out after time and we all seemed to find our respective paces.
To give you some background, the Hoodoo 500 is a breathtakingly beautiful and challenging course of 512 miles with 30,000ft of climb.  This year it covered the Coral Pink Sand Dunes, Bryce Canyon, Grand Staircase-Escalante, Capitol Reef, Black Rock Valley, Bristlecone Summit, a fast and moderately terrifying descent through Cedar Canyon, and a final descent through Snow Canyon back to St. George and the finish line.  It was going to be an amazing ride.
The Morning Hours
Our race started fantastically well.  We were making great time after the bathroom stop. My heart rate was a little high with some anxiety.  My power was solid and a little ahead of the plan.  I felt that I needed to make up a bit of time after such a relaxed roll out, but I was not interested in pushing too hard.  I figured I needed to sit right on the edge of discomfort, so I'd at least feel like I was racing.  I fell into a solid group of racers.  I was passed by Robert Mann on a fixed gear.  Admittedly, I wasn't sure how to feel about that so early on, but he was riding strong and I was impressed.  Because of my bathroom stop, I had already been passed by several other riders and had the opportunity to watch them as we made the steady ascent to Hurricane.  One rider stuck out to me.  They climbed with steady and calculated persistence.  They descended with confident precision.  I was slowly catching up to this individual only to find out it was Seana Hogan.  Finding myself next to the 6-time RAAM female winner and current female Trans Continental record holder made me more than a little uncomfortable at this stage of the race. I looked back over my numbers. Power was on track and heart rate was ok.  I felt great. I elected to continue at my current pace, but to be mindful of my pacing.  There were still a lot of miles and my goal was to not overdo it too early.
Around 10am, as we headed into the Coral Pink Sand Dunes State Park, temperatures were beginning to pick up rapidly.  I wanted to be proactive about cooling.  The crew started adding more ice to my liquid nutrition. We added ice bags for the bra.  I added a cooling towel to my neck as we made the descent to Mt. Caramel Junction.  The race would take a very unexpected and frustrating turn around noon at mile 89.
The cooling towel was drying and no longer providing enough cooling.  I had communicated to the crew that I was going to throw it and we would swap towels in a short while.  We were on a flat stretch.  I had spent many training hours on the TT bike and felt comfortable on her.  I had my left hand near the brake and grabbed for the left side of the towel with my right hand.  The towel caught on my neck and I tugged harder.  I was not going that fast, but I inadvertently pulled too hard on the left side of the handlebar.  I had done this before and noted the twitchy nature of the bike.  In my head I was planning to correct my mistake with no issue.  The next thing I remembered was standing next to the bike and crew then walking me back to the van, telling me I had wrecked.  I realized the corrective action I had planned never occurred.  My best assessment is that I fell forward on the front of the helmet which cracked in the front and rear.  I likely fell on my right side, then skidded to a stop on my face.  My crew missed actually seeing the event by seconds.  I was prone and unconscious for about 60-90seconds and repeating myself for about 20 minutes from what I am told.  I likely knocked the wind out of myself.  I'm quite confident that I had/have a non-displaced rib fracture on the right.  I ripped my shorts and jarred the Terrano headset so badly that it would not restart.  The crew notified my husband and loaded up the bike.  I sat in the van and drank and ate.  I stared out the window and watched as the other racers passed me by.  I can't account for the time that I was repeating myself, but I essentially woke up from my haze and my head felt perfectly fine.  My rapid physical assessment revealed that I had no serious injury.  I began heckling the crew to change over the headset to our backup and switch helmets. "Can I go now?"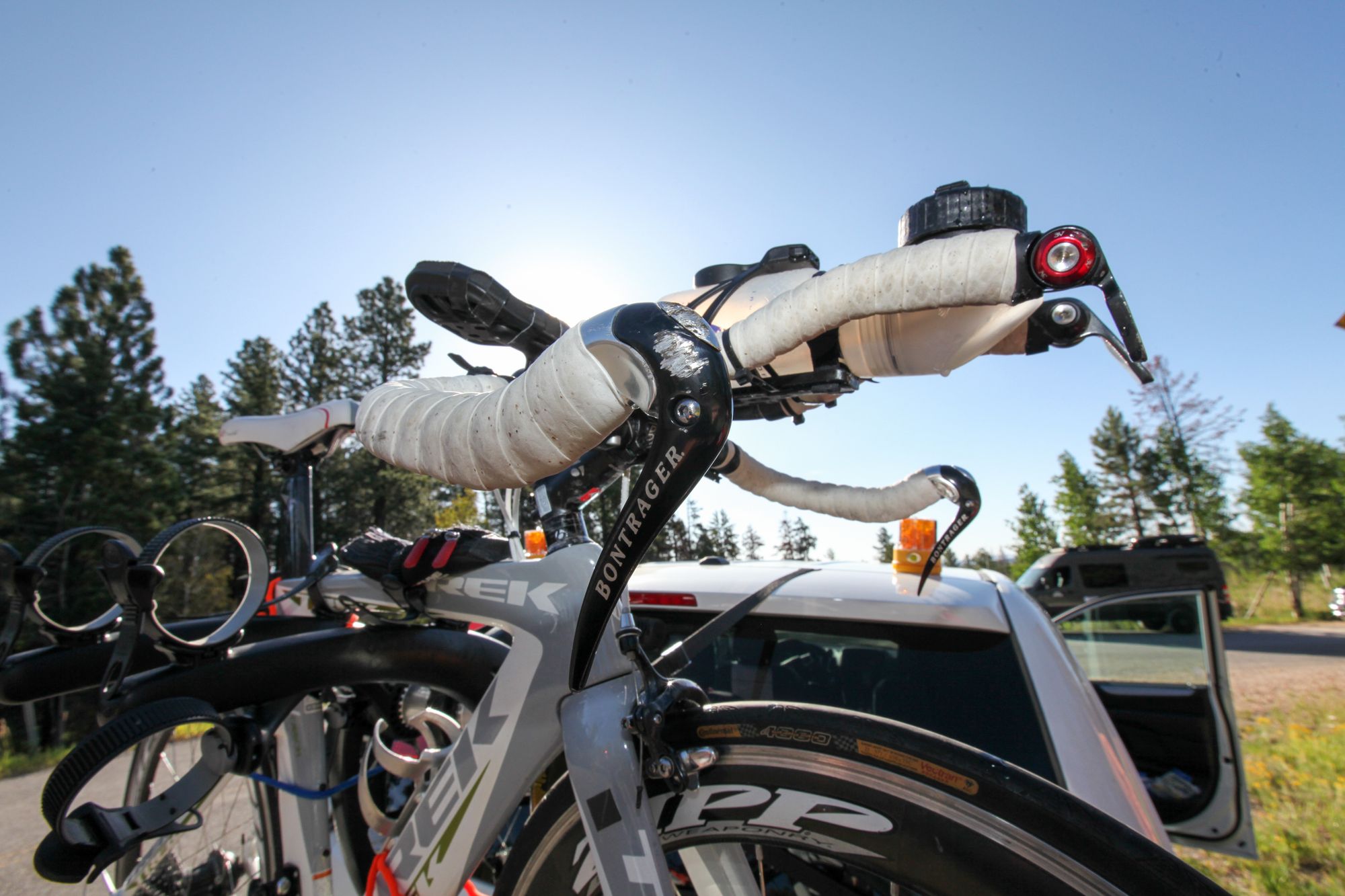 The crew informed me that an ambulance had been called and they wanted to have me checked out.  I remember having the fleeting debate with myself about whether I could continue on alone.  Obviously, that was not an option.  I realized I had to give the appropriate time for an assessment and give the time the crew needed to ensure that I was safe.  I remember begging Jenn to please not make me stop.  I had worked too hard for this to be done so soon.  By the time the ambulance had arrived, I was ready to keep moving.  I kindly informed them that I was an ER physician and that I knew the questions they would ask of me.  My vitals were stable.  My crew felt that the ambulance crew gave up on convincing me of any different path. Realistically, I have confidence that if something were terribly off the ambulance crew would have picked it up and prevented me from going forward.  The reality was that I was as truly fine as I could be for the circumstances. The facial road rash hurt.  My right ribs hurt, but I had no other reason to call it quits and I didn't want to stop.  Thankfully, Julian, another wonderful volunteer offered to follow us to Time Station 1 for an extra set of eyes.  We switched over all the gear to include transitioning to my primary bike, the Trek Emonda, and set off 64 minutes later.
The remainder of the trip to TS 1 was rather uneventful.  I don't remember too many specifics except that I was making darn sure that I did nothing to give anyone reason to pull me from the race.  At TS 1 we were greeted by Dusty.  I may have still been a bit hazy, but I felt as though she looked a little sad.  I couldn't help but think, "I'm back on my bike and racing.  Why so sad?"  Maybe my perception was completely off the mark as well with my ongoing concern that they would try to pull me from the race.  She gave me a hug and for some reason at that moment it really meant a lot. I realized that I had really messed up. I may have cost myself the capacity to finish the race.  I would need to redirect my goals to be a little less aggressive and make my primary goal to finish.  Any other gains would be a plus.
The Day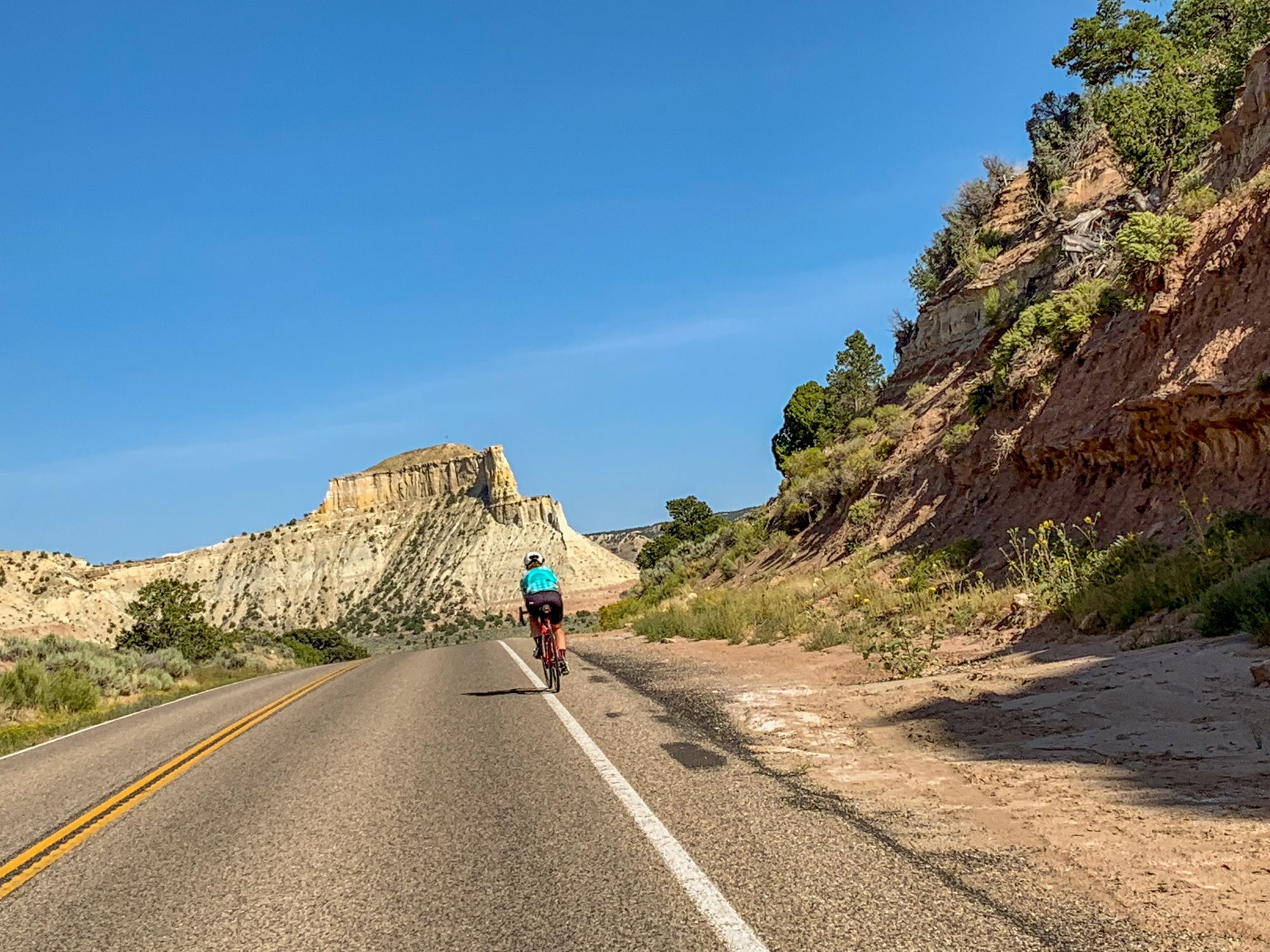 After TS 1, things began to normalize.  I was coping with my new set of circumstances. The scenery became familiar from my visit to Utah in 2015 as we headed to Bryce.  The climbing was manageable.  Nutrition was staying on track.  The only ongoing issue heading to Hatch was the increasing heat of the day. Upon arrival to the Red Canyon Bike Path, the crew loaded me up with a fresh beverage to get me by until we would meet again about 8 miles later at TS 2.  I watched the handoff of Coconut Crab and appreciated how fresh their new rider looked.  I daydreamed about the times when I could pedal better.  The heat had been taking its toll.  Power had started to drop.  The climbing on the black asphalt bike trail alone was becoming challenging. I really was starting to feel unwell. Was it my nutrition/hydration what was going on?  I realized finally that the heat paired with the elevation of 7800ft was causing my current problem.  I just needed to get to TS 2 and my crew for some cooling and a mental reset.  It was along the path that I finally caught up to Jen Orr, overall 2019 RAW winner and course record holder at the 24 hour World Time Trial Championships in 2018.  Talk about some power-packed ladies on this course.  I said hi.  We didn't really talk.  I'm going to go out on a limb and guess she was feeling about as fantastic as I was at that point which was not at all.
We took a rather generous stop at TS 2.  We finally had our backup headset working to resume communication until direct follow where the van could be directly behind me.  I left feeling cooler and relatively refreshed.  The newest ongoing issue was some groin discomfort that I thought I had under control.  And the reality was that evening was coming and temperatures would have to improve. The scenery was beautiful. Michael Conti was back taking photos and giving positive feedback out of the side of his van.  I was feeling pretty optimistic and downright peppy all the way to TS 3.
At TS 3, we added the reflective apparel. The van gassed up for the night hours ahead and grabbed a quick dinner.  They left me to pedal on my own for a bit which in reality was maybe 20 minutes.  I had become rather attached to them and felt a bit lonely on my own.  But I did enjoy the impending evening hours and beginning of the alpenglow as it lit the scenery at a flattering angle.  I gave myself over to a feeling of deserved appreciation for my time on the course, the scenery, and the reality that hours and many miles had elapsed since my wreck and I was doing alright.  I was feeling grateful.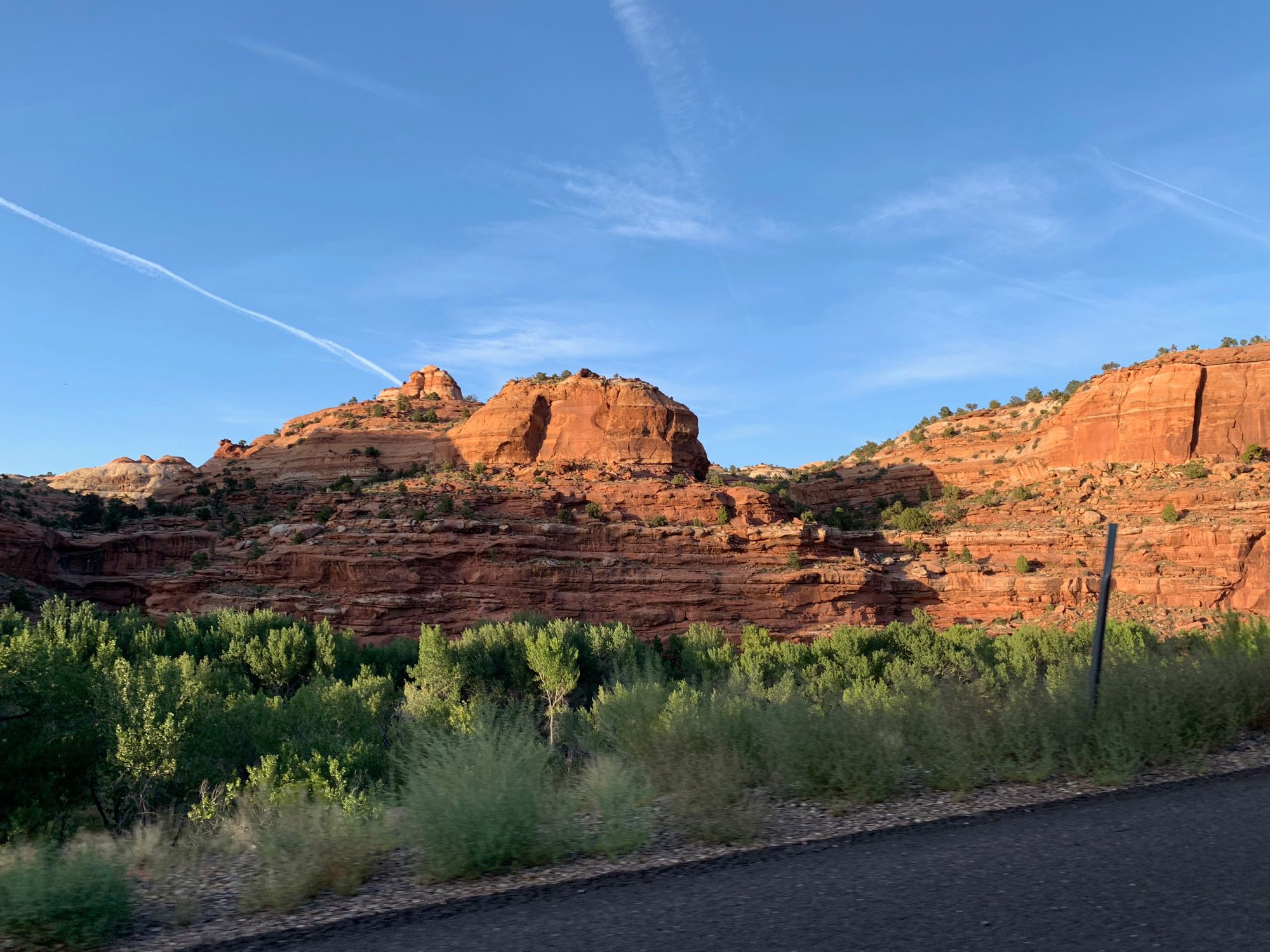 At the descent into the Escalante River Canyon I did have a small moment of panic.  The road was curvy and I lost sight of my follow car.  I had not asked about directions and noted a road to my right but felt the road on the left was the correct direction.  This took me to a rapid and sweeping descent.  I sincerely hoped I had not made an error because the climb back up would be terrible.  I slowed for the crew, but really never saw them until the bottom and figured they would catch me if I were wrong.  The scenery through this area was one of my most memorable parts of the ride.  I had been traversing high desert prairie and with seemingly one turn in the road, the scenery had opened up to bare rock as far as the eye could see lit by the evening sun in a multitude of colors.  It was scenery I had never seen before.  I was overtaken by emotion at the sheer beauty of it all.  From here, one of the largest climbs of the route to a peak elevation of 9,604ft occurred. The distraction of the scenery paired with my slow creep up the mountain allowed me the luxury of taking some of it in and committing it to memory.  We had the good fortune of reaching Hog's Back (a narrow ribbon of road with dramatic drop-offs on either side) just as the sun was setting.  It was an indescribable, magical sight.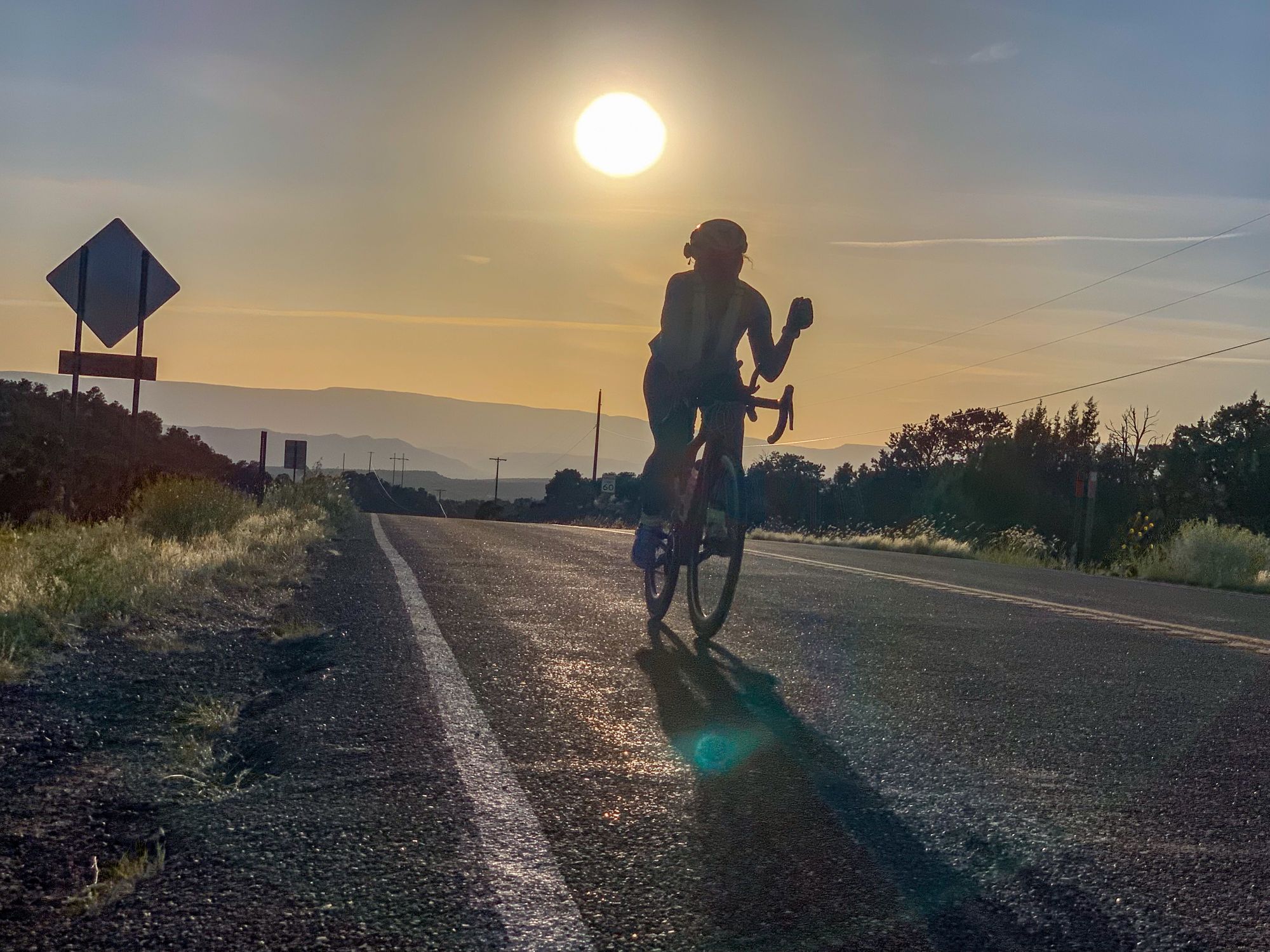 We stopped near Hog's Back.  At this point my groin had begun to cause a lot of pain. Jenn helped me apply lidocaine to get by.  This became an ongoing miserable experience.  I was reliant upon Tylenol, Motrin, and AMP cream for my rib pain as well as my legs.  The groin would prove to be my other greatest mistake and attempts to rectify it many hours later came far too late.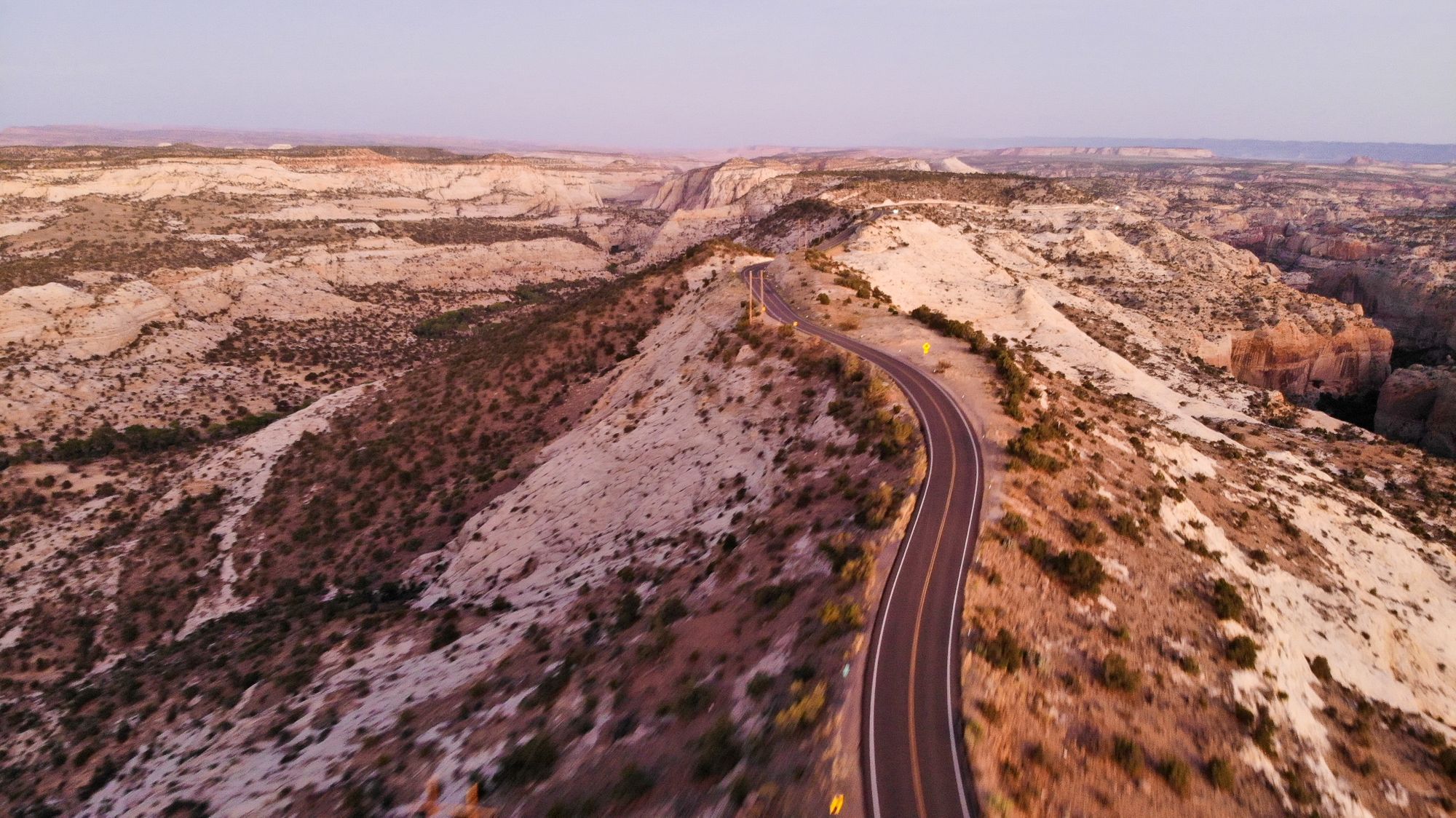 The Night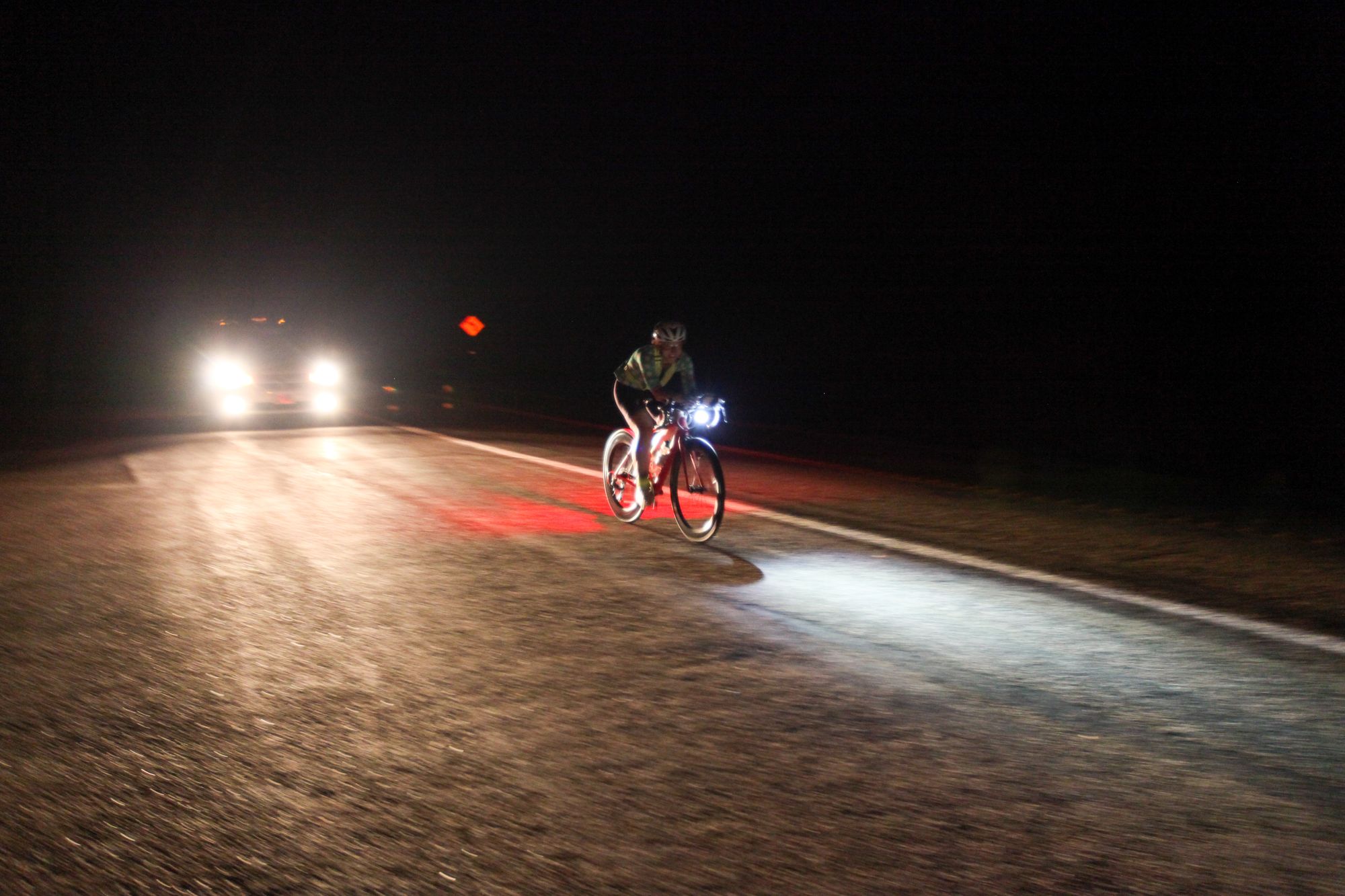 Our final ascent to the second largest summit of the race occurred in the dark.  The crew added my down jacket for added warmth with the impending rapid descent. They mooed at me at every free-range cattle sign which made me laugh.  We took to feedings out the window with a fork which worked wonders and gave a fair amount of entertainment along the way.  We also started to supplement with caffeine around midnight, but I remained surprisingly alert.  Overall, the temps were still rather warm. I could hear cattle in the fields and water rushing off the mountain, but I could see little more than the trees near the road with my light and the car headlights.
I took descents rather cautiously, but tried to keep speed when I could.  We arrived at Bicknell a little after midnight to hear that we were closing in on Seana.  We had another painful groin care moment then took off with preparations to make the next big ascent.  I love to climb and the plan was to climb as aggressively as possible to gain some time.
On the next big climb after Bicknell we encountered Seana's van on the side of the road, but she was nowhere to be seen.  We pushed on.  The temperatures at the summit of over 8000ft remained warm at 74F. We made the descent and my crew ushered me to the left-hand turn that had been discussed as frequently missed. Once we hit the valley, the temperature dropped substantially to the point of discomfort.  I had planned for this, but did not think it would occur on a valley floor.  I drank hot chocolate that was still lukewarm in the Yeti.  My crew added warm gloves, shoe covers with toe warmers, hand warmers stuffed under my shorts and toe warmers stuck to my bra.  That was some gravel genius work there from my gravel-grinding awesome crew.  I continued on a bit chilled, but not cold.  I had some sadness through this region, because the original plan had been to use the TT bike on this flatter section.  The handlebar had been moved and with the severity of the wreck we had decided to not use the bike again for safety.
This section of the route became quite a bit of fun. It was uncomfortably cool, but we entered the night in 5th place and now as we were approaching daylight we had taken first.  I tried to keep up the pace.  My crew did not disclose to me that Seana was steadily gaining ground behind us (I'm still not entirely sure why).  We stopped for another bathroom break and Seana passed us with authority, looking strong. We had a real race on our hands! Somewhere in the gentle ascent to Panguitch we passed Seana again, but have no fear, she overtook us again as we came closer to town.  As daylight was approaching, my mood was lifting.  The arrival of daylight and the rather cloudless skies meant the temperatures would improve, but not until they hit the all-time low of 47F.  I had all the warmers and gear re-applied and was still rather cold.  I could only hope for the impending sunshine to get me out of my current discomfort. Despite my worsening groin, sore ribs/road-rash and cold and the fact that I had been passed for the third time, I was getting more optimistic about my situation.  I stayed awake all night with very little fatigue.  I had pain, but I was still making steady progress with lots of miles of racing left.  We had done well with our time.
The Second Morning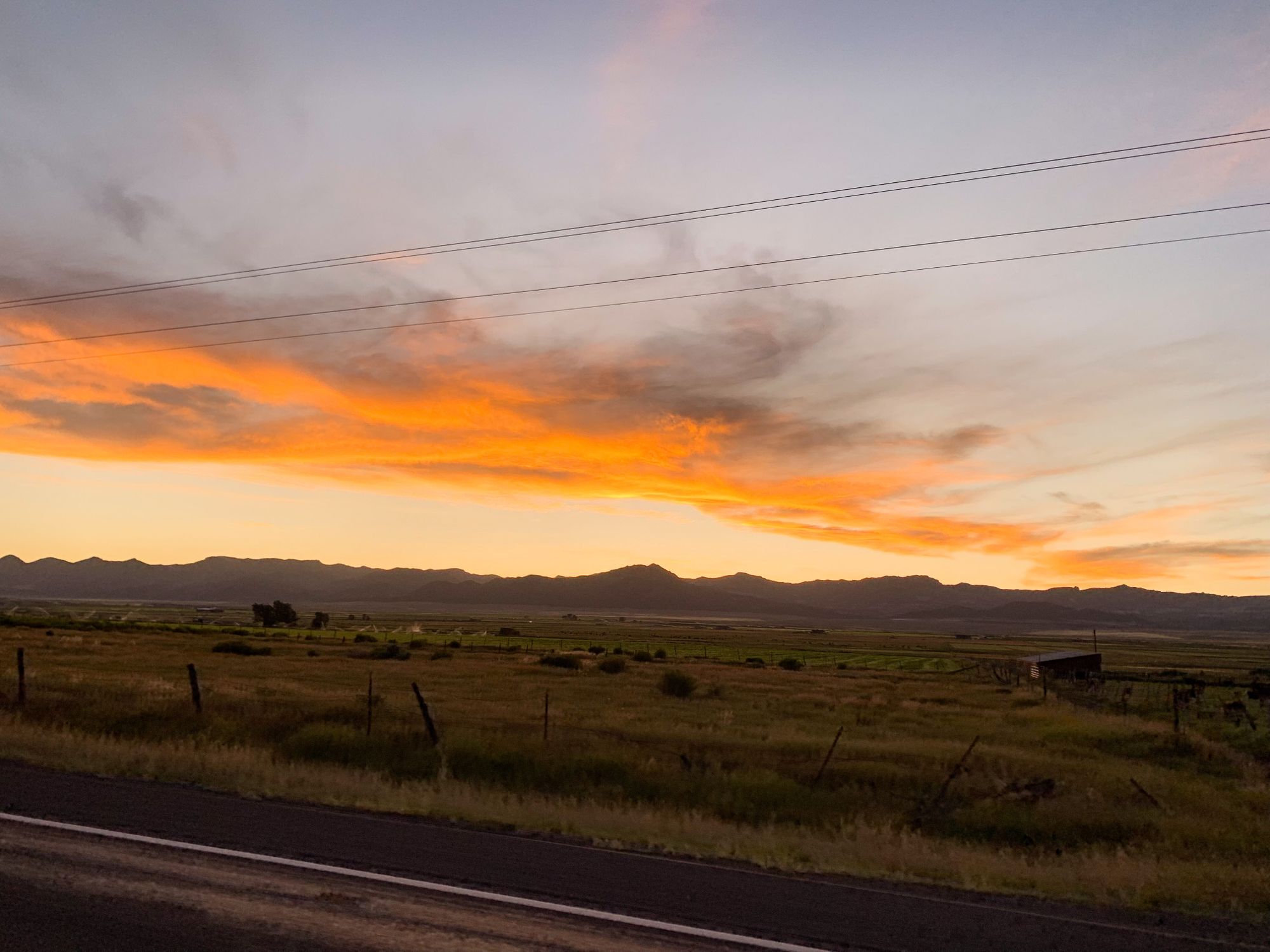 In Panguitch, we left at the same time the stage racers were leaving.  I couldn't shed any layers because I was just too cold.  I realized that despite my favorable location, I had let a lot of time slip by overnight, and I had allowed the lead to slip away yet again. I felt confident I could push hard to catch up, but it was time to move at a relentless and hopefully uncatchable pace. As I left town without the crew, the climbing started with earnest.  I saw Seana just ahead.  I knew the biggest ascent was yet to come, but forgot the long slog it would take to get there.  Apparently, I had not committed the exact number of miles to memory as well as I had thought.  I pushed ahead with a small amount of frenzied anxiety.   I felt that this could be the last opportunity to make significant gains.  It was the first time that I had encountered climbing on the route with less than enthusiastic excitement.  The climb out of town was steep; except it wasn't terribly steep at a brief maximum 6.8% grade.   The reality was that I was a little fatigued.  My groin had been giving me fits for hours and my ribs made sure I had not forgotten them either.  I had been cautioned about the climb and to not get discouraged.  I held onto that hope. I passed Seana for the final time. We didn't talk.  It was all business to keep forward momentum.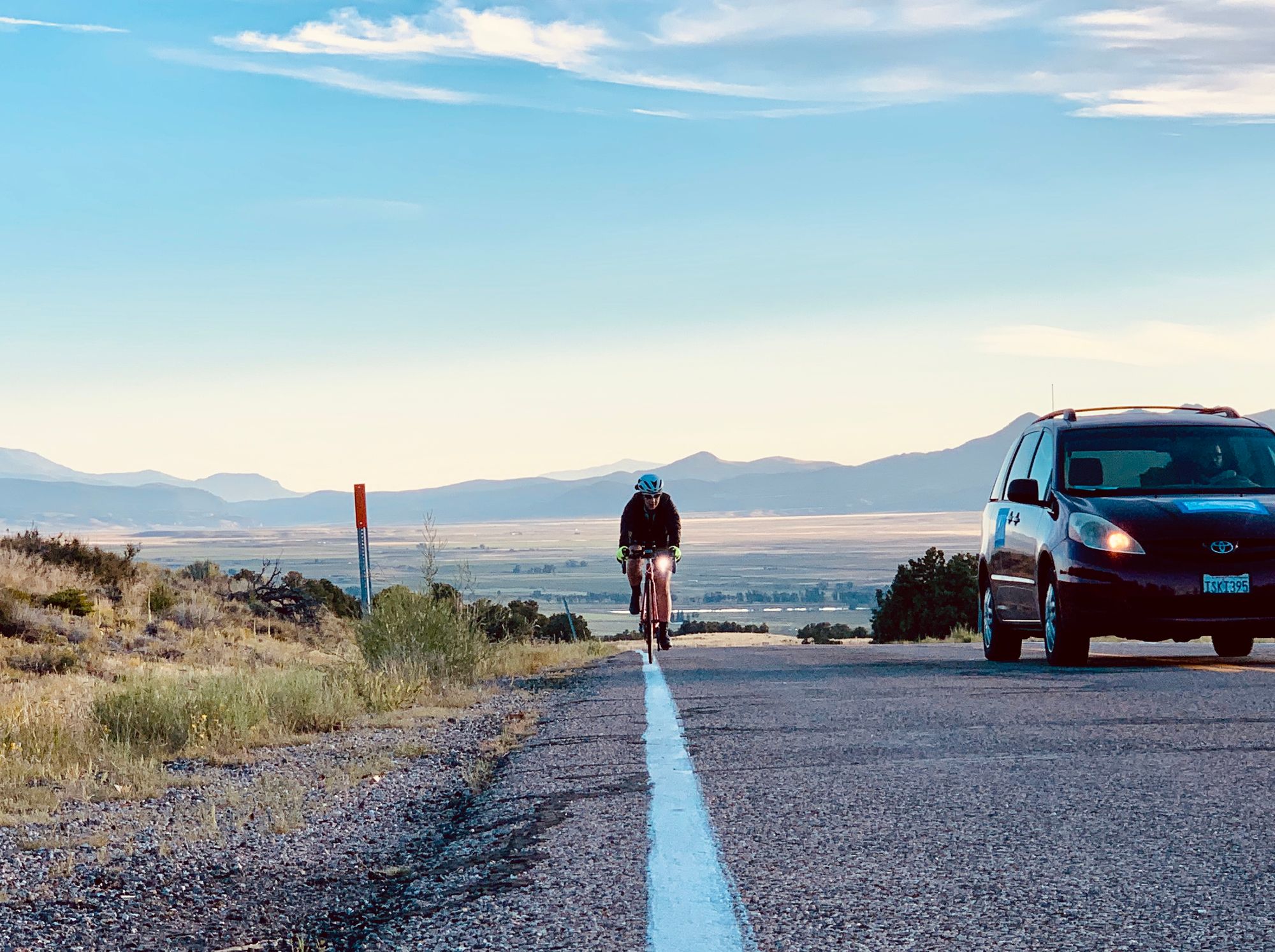 Having fresh riders on the course helped to redirect my thoughts and give small targets for my tired legs.  The crew rejoined me within a few minutes and we resumed our leapfrog.  We had resumed use of the headset for the important hours to come.  I finally began to warm up and was able to shed layers. Michael Conti was back snapping photos and I couldn't help but to smile.  I've never been a tracked dot before, but I was enjoying the thought that my dot stalking friends were waking to their morning coffee and look at us go! The crew had read off some comments and I was cheered and invigorated by the overwhelming support from home.
The next 20 miles of climb to a small summit of 8631ft went well.  It was finally warm enough to wear just shorts and jersey again.  The short descent was well-earned and enjoyed with sweeping scenery in the distance.  A short while later the next climb began.  I found myself positioned with stage riders and feeling less than fresh.  I tried to be positive.  Crew relayed details about the climb and upcoming effort.  They played loud music on the headset and cheered out the window.  We were getting there.  We had another short descent then the final 20 mile climb to the 9910ft peak of Bristlecone Summit began.
When Your Race Gets Real
In my short ultra experience to date I always find there are periods of elation when everything is going well.  You're physically and mentally on fire.  Then there are times of mixed emotions where things are ok but several aspects are less than ideal.  Lastly, and most entertaining to the ultra-loving individual (Those tales to be told over beers later) are the times where the wheels are trying to come off the bus and the suck factor is high.  If you're really lucky you might even be questioning your sanity and/or hallucinating, and absolutely wondering why you picked your current path to begin with. At this point, I was somewhere in the middle and not heading in a favorable direction.  My favorite meltdown of the race was when I asked Brad how much longer to the final summit.  "Oh not long."  We had developed a relationship where that response could mean a couple miles or 8. I figured 8-10miles no problem. "Really, how far?" …..silence.  Brad:  "20 miles." Me:  "What!!????"  I may have allowed a prolonged echoing silence over the headset because I was mentally throwing a bit of a fit.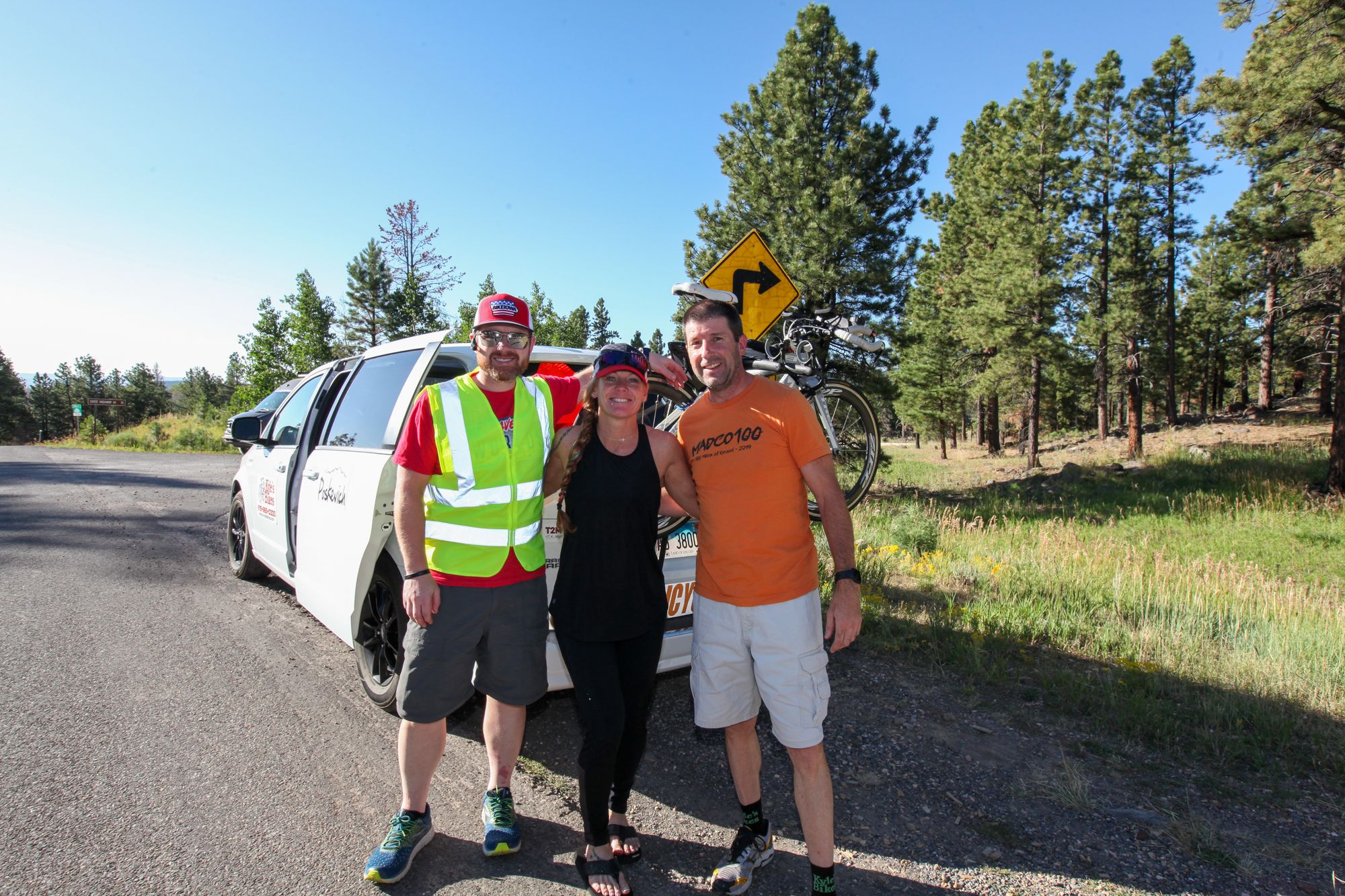 The ascent to Bristlecone Summit was steady. The temperatures were climbing. The curvy nature of the road and limited shoulder gave few options for my crew to pull off.  We were frequently out of headset range to communicate.  I found myself pedaling in the growing midday heat with a rather endless stream of vehicles, many pulling trailers.  Most were quite polite, but the never-ending stream had me on edge due to some challenging training rides earlier in the summer.  The summit was briefly celebrated and we began our descent through Cedar Canyon. I found this section to be the most technically challenging section of the course. The descent was somewhat steep and rapid.  I feathered the brakes hard, frequently.  The endless stream of cars blazed by me.  I could smell warm brakes and questioned the smell of warm Zipp brakes.  I pondered just how much it would take to try the brakes to failure.  That would be a new problem I hoped to avoid.  The crew and I eventually found ourselves stopped at the construction light that we had been warned about.  It gave me time to refuel and rehash my strategy.  My groin was a disaster.  We re-discussed the need to change shorts in Cedar City then we were off again.  The heat was becoming stifling.  Food and drink were becoming a chore and I was losing interest in the task.
Shortly after the Cedar City stop, our headsets died for the last time.  We decided on hand signals to communicate for food, drink, discussion.  We made another stop and it was finally decided that the shorts had to be changed.  This was my hardest lesson of all.  With only unsupported racing to date, I've not had the easy option to change everything. I should have taken the advice of the crew because we were long past rescuing my current circumstances.  I left in new shorts with another horrendous round of lidocaine application. This became the most difficult part of the course.
We continued on Hwy 56 to Castle under the blazing sun.  The incline was gradual, but we now had headwinds to contend with.  I could barely sit the bike due to the groin pain. I could no longer use the aero bars because of my groin and so I sat upright on the hoods into the winds and gentle ascent at a blistering 8-10mph.   My disappointment was extreme.  The direct communication to my crew was gone. I spent too much time whimpering in pain and misery.
The Finale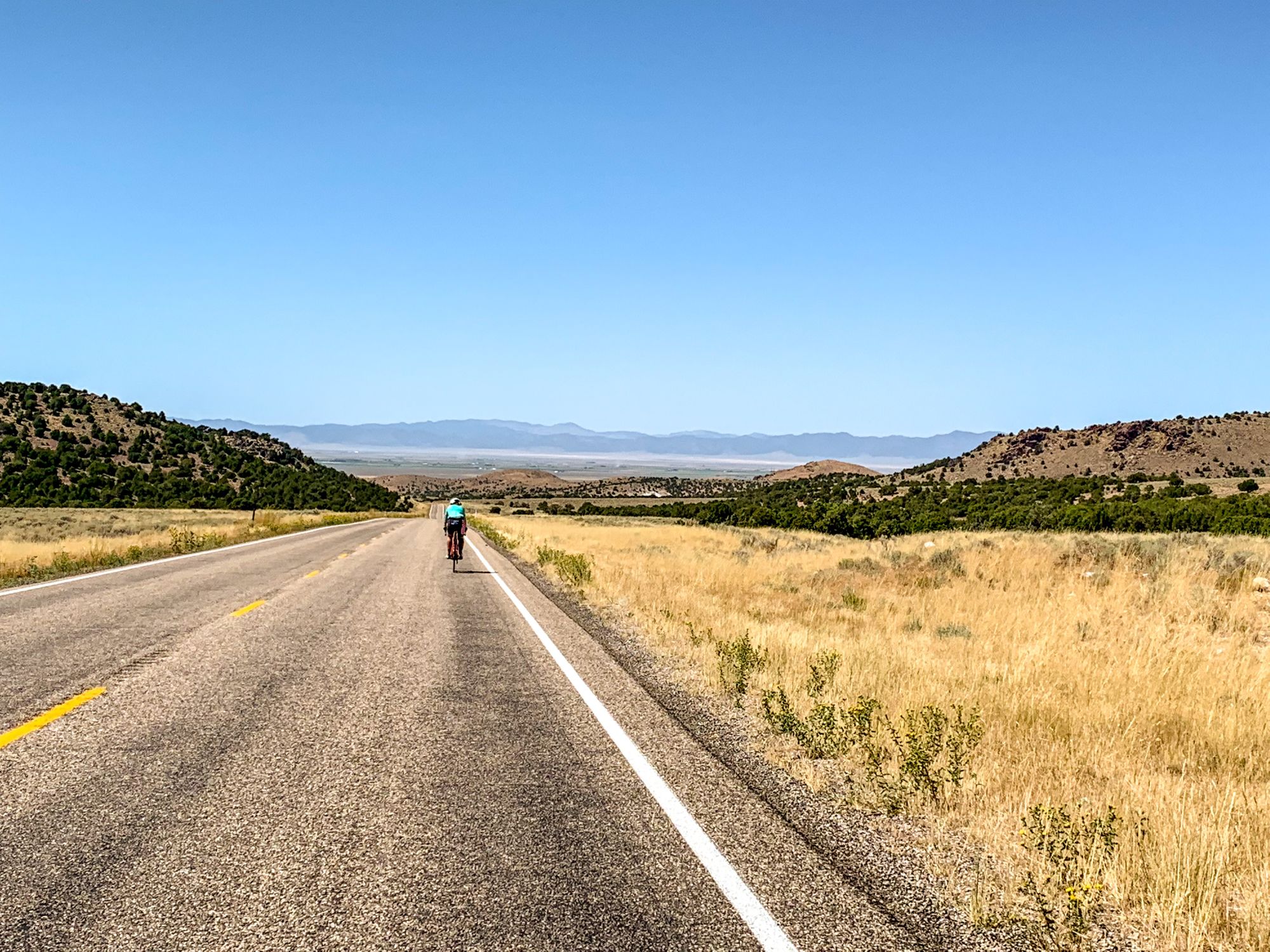 The course became flat, dry prairie through Newcastle and Enterprise.  The crew would intermittently pull up and hand off pieces of fruit and new bottles. The bottles tasted terrible.  They were sneaking nutrition and electrolyte replacement at the bare minimum of our nutrition plan.  Somewhere in this section I finally got myself together. The ridiculous pity-party had to stop. The finish and a record were in sight. I had three amazing people behind me in a car.  They had cared for me during a wreck, followed with precision with no sleep and taken care of my every need without complaint.  They had sacrificed time away from their families and lives to make this dream a reality for me and all of us. I was pissing it away.  I wiggled around on the seat until I found a spot I could tolerate and hit the gas at about 13mph.  In my defense, it's mile 475 and we were climbing again.  I'll take it.  

We finished the ascent on Hwy 18 with several handoffs, some slow pedaling and lots of cheers from the crew.  I was passed by several stage riders on this section, but couldn't muster any more effort.  The descent to Veyo was welcome and recognized from my prior recon.  The crew went ahead to the Chevron gas station and TS7 to call in my arrival upon my approach.  We had discussed the last needs of a small repair kit, cellphone, and wrist band for Snow Canyon.  When I found them at the Chevron they waved me through.  I was puzzled, but pedaled on.  I kept waiting to see my crew, but they continued on just ahead of me.  I raced after them with all I had.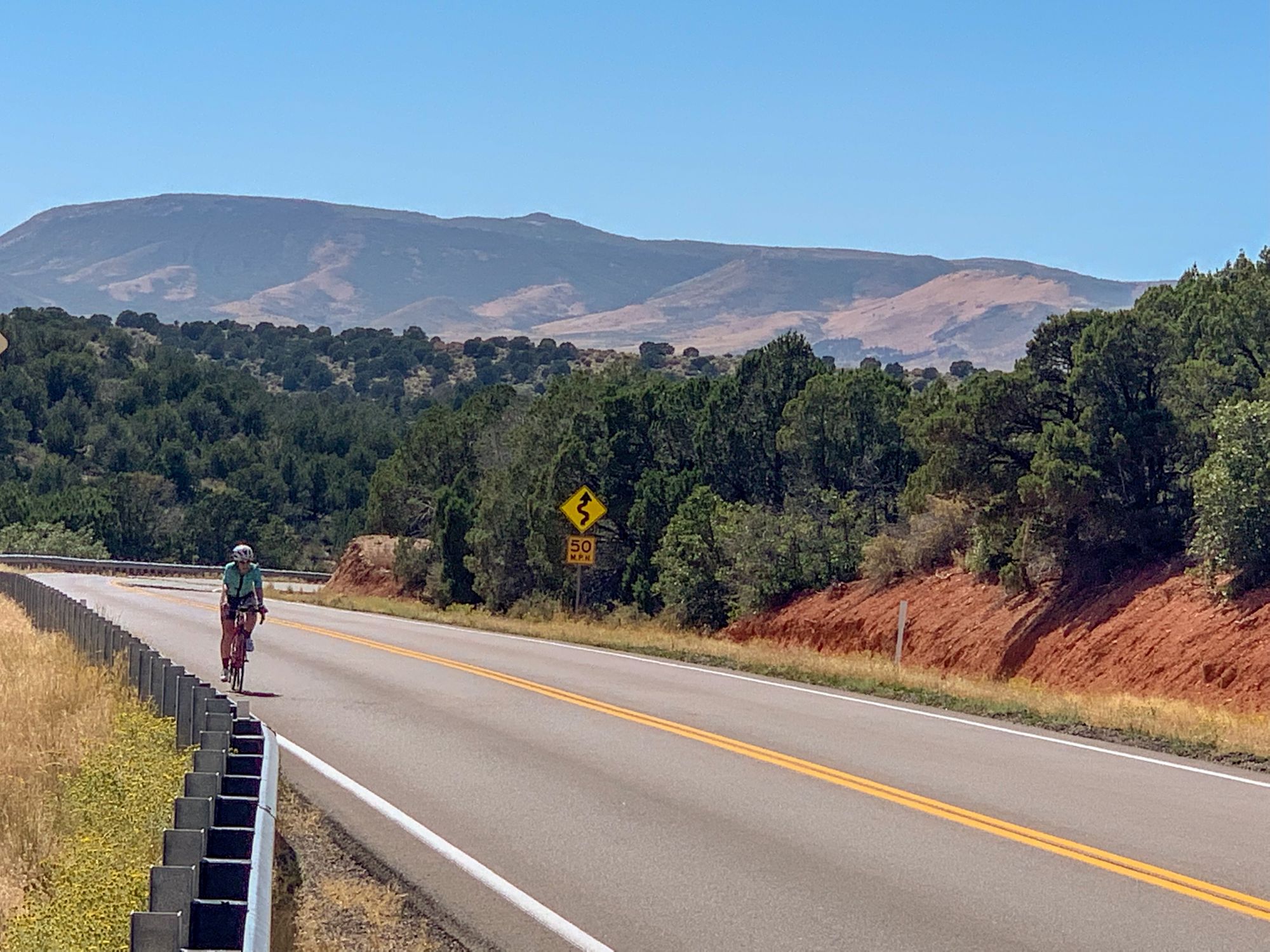 We reconvened at the top of Snow Canyon. We made one last wardrobe change to celebrate my Velorosa Cycling Race Teammates. My pockets were stuffed with my small needs, bottles were swapped, and I was off for the finish!  I raced with all I had down the canyon and back into town. I had had my fill of playing up and down the canyon on other rides.  I snatched blissful glances at the scenery for one last time.  The wall of heat sent prickles of exertion down my spine.  My only requirement was to not blow up 10 miles from the finish line.
Like all good races, I got stuck with no car at the last red light.  I waited the crosswalk, made the final turn and rode through the finish to rejoin my crew with smiles all around!  It was an incredible finish and one I'll not forget.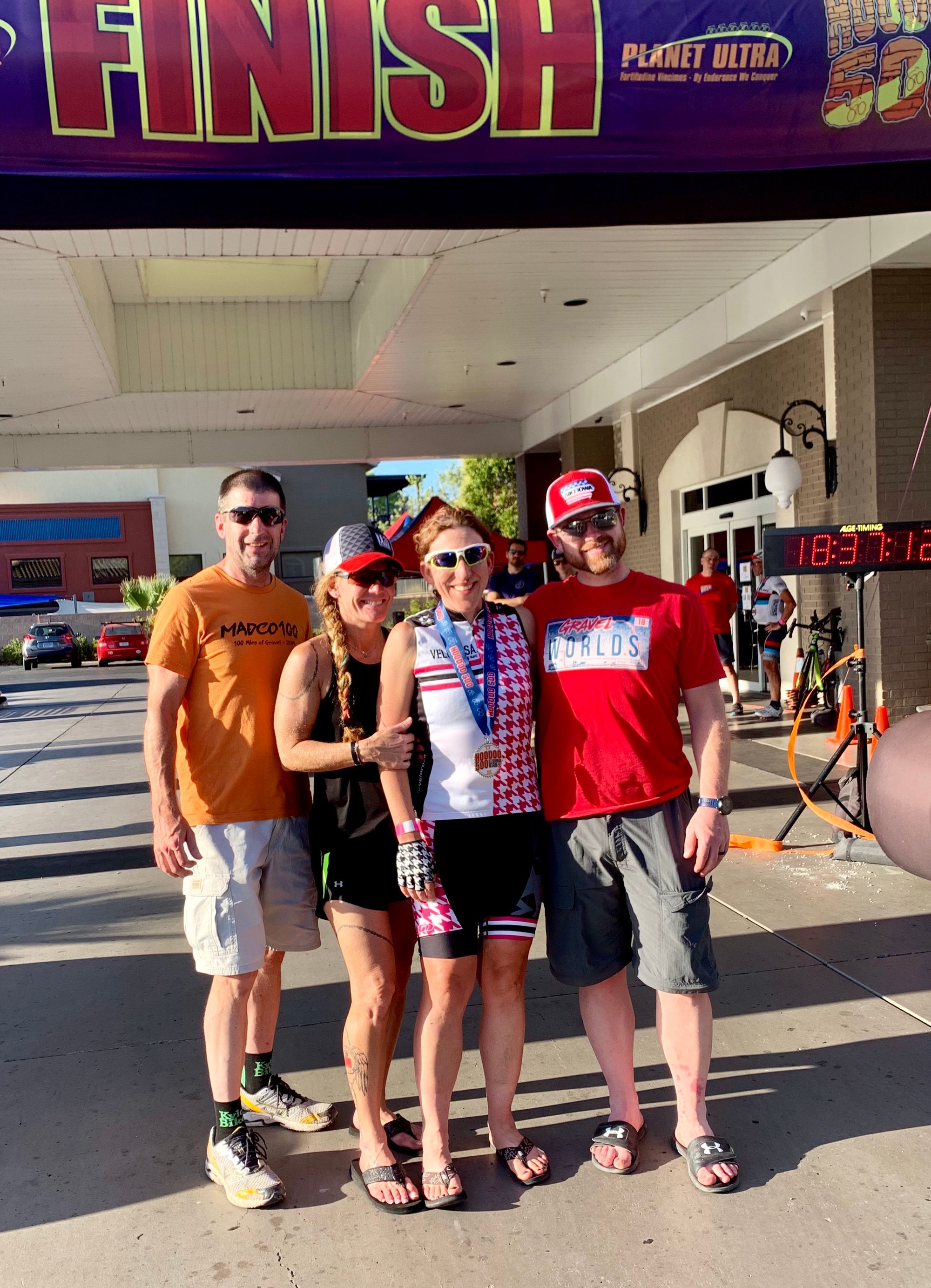 Official results:  35hrs 7min, 1st Overall for the 500 Solo Supported with a new women's record!
Lessons learned:  Try not to wreck.  It hurts and costs you time.  Stay positive.  Change your shorts!
As always:  Enjoy your adventure!!!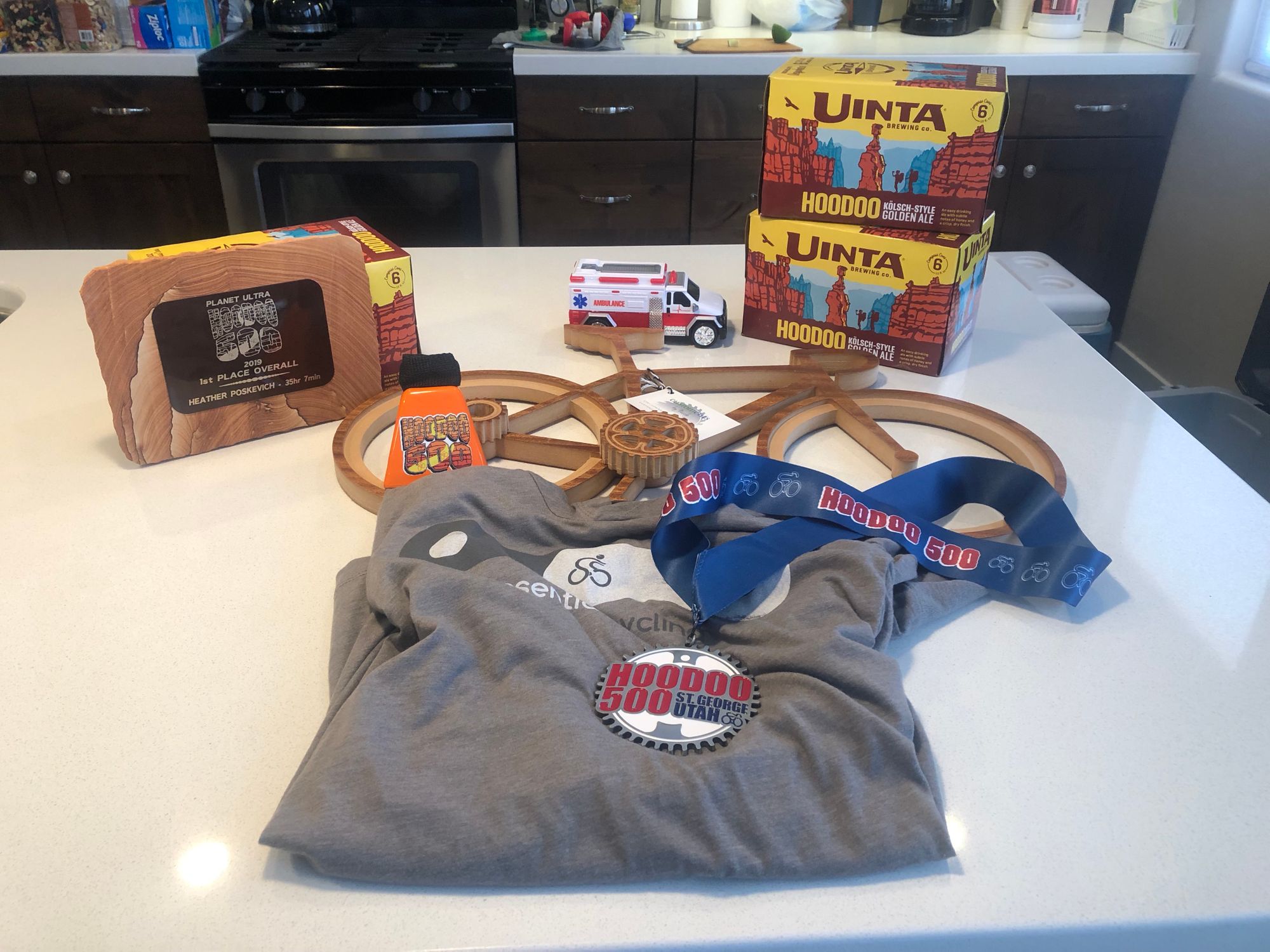 Gratitudes
-Special thanks to Deborah and Brian Bowling for directing this amazing event.  I would highly recommend racing this event, and I would love to repeat it sometime in the future.  Thanks to all the individuals that staffed the various components of the race. Everyone was amazingly supportive and friendly at all hours of the day and night.
-Thanks to Brad Stoermer, Joe Short, and Jenn Borst for their unwavering support through our challenges, lows, victories; their self-motivated commitment to our success.  I had the best team by my side.
-Thanks to my husband, Dave, for coordinating flights, transportation, all manner of "stuff" and tolerating my crazy antics. I am a lucky woman.
-Thanks to my daughter, Grace, for reminding me of all of my victories and cheering me on.  She is perfection.
-Thanks to my coach, Greg Grandgeorge, for tirelessly committing to my success and helping me achieve my goals.  I share this win with you.
-Thanks to Kyle's Bikes for promoting me, optimizing equipment, and helping with all the small crises.  We rolled 512 miles with no mechanical issues.  You spoil me.
-Thanks to Sarah Cooper, Steve and Kathy Fuller, Joe and Connie Mann for additional gear, your time and wisdom.
-Thanks to my Velorosa Cycling Teammates for supporting me and cheering me on.  I'm surrounded by strong and inspiring women.  Our founders make some pretty amazing cycling apparel.  Check it out!  Velorosa Cycling
-Thanks to Adam Thompson at Erik's Bike Shop for fitting new bikes and shoes to keep me rolling in comfort.
-Thanks to Michael Conti for his presence on the course and fantastic, candid photos that captured the event.