Iowa Wind and Rock 2019: Race Report
337 miles of gravel goodness!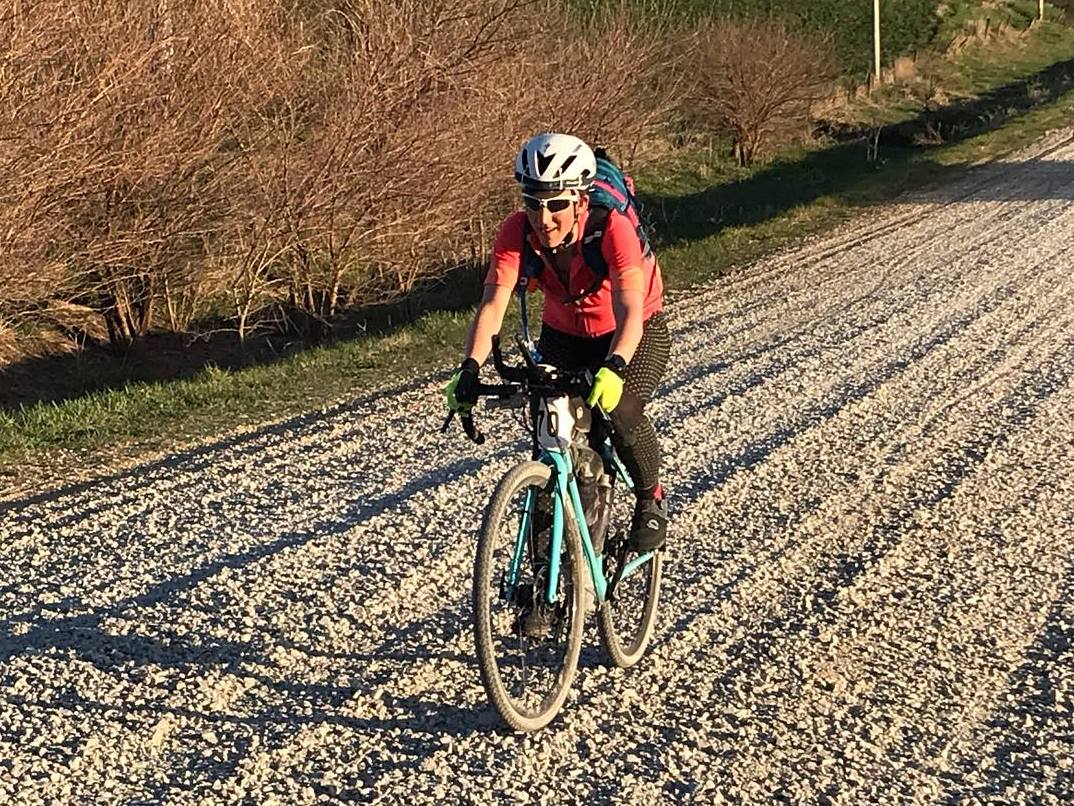 by Heather Poskevich
Iowa Wind and Rock
337 mile Gravel Bike Race
Winterset, Iowa
April 20–21, 2019
#Grateful
You would think that 340 miles of gravel with 28,000 feet of climb over 31 hours and 16 minutes could not be summed up by one word, but for me it says everything. I'm not great at expressing thoughts on paper, but I'd best do it now because some of the memories I have are slipping away at an exponential rate!
Let's talk about the first edition of Iowa Wind and Rock! This is the thoughtful creation of Sarah Cooper, Steve Fuller, and Dennis Grelk. A race created out of a sheer love of gravel for people that share the same love… an event that promised to be an absolutely epic show that would unravel as we pedaled along.
I first learned of Steve Fuller through a mutual friend as he trained for Tour Divide and dot stalked him on his adventures. His skills and grit inspired me. Following him, I learned of Sarah Cooper, a mom, a professional, a woman absolutely crushing records and blowing the doors off the endurance cycling world. And the spark was lit. Wouldn't it be neat? Wouldn't it be cool to ride farther than ever before? To try so hard and push yourself to the limit? The retirement of Trans Iowa came as a shock to me as I had deemed 2019 to finally be my year to try. Iowa Wind and Rock was the ultimate gift.
I sat at the computer the morning of registration at the ready with sweaty palms. I knew full well that these directors would draw an absolutely tough-as-nails crowd. Their reputations precede them, and their friends are some of the toughest cyclists in the country. Making the lottery left me grateful… and scared.
Iowa winter was a tough one. Lots of frozen and unridable roads. Lots of time on the trainer, and winter refused to release her icy grasp until the bitter end. This left our roads in shambles. I spent many an outdoor ride watching graders work the same strip of roads for hours trying to repair the damage. And of course this means lots and lots of fresh rock! Weather in April is also a crapshoot, but we were so fortunate that the weather was in our favor. And so it was, after months of training, planning nutrition, choosing gear, and prepping the bike and myself, the big day had arrived.
THE NIGHT BEFORE
Check-in on Friday was relaxed at the beautiful venue of the Madison County Winery. Sustenance came in the form of awesome barbecue eats provided by Papa Firkins Smokeshack and it was delicious as always (I got food to go for the family… it's that amazing) and a glass of great wine from the winery, if you so chose. I tried to keep things brief as I would be commuting back in the wee hours of the morning.
Parting words from Sarah were "I don't like easy things. This is going to be hard. There are some sketchy sections out there… be careful." I expected and craved for nothing less, but they were words that should not be taken lightly. Let me tell you, there was no shortage of hard. This was hands down the hardest ride of my life. Tough was delivered in spades.
Sleep was going to be king… what little I could get. That ended up being me in the bed by 7:30 pm and listening to the hammering of my heart with pre-race anxiety for well over an hour. Sleep was restless, and the alarm went off at 12:30 am. All systems go with about four hours of poor sleep!
RACE MORNING
My husband and daughter drove me and the bike and all the gear to the start. I got there an hour early. I spent the time checking and rechecking gear. Obsessive tendencies were on high.
The first set of cue cards were acquired just before race start. The few details included would be the most I would ever know of the route. In the spirit of Trans Iowa, the course is navigated only by cues. You receive your next set of cues once you reach Checkpoint 1, and those carry you to Checkpoint 2, then ultimately to the finish. If you fail to make the cutoff times, you do not pass go, you do not get your next set of cues, and your race is done. Ten miles per hour is the requirement, which sounds quite fair, but April Iowa weather, mechanicals and all other unforeseen complications could make that quite a squeeze.
Finally at 3:45 am, we all gathered in a cluster, lights winking in the darkness to hear the last words of wisdom from our directors and then we were off! I was positioned mid-pack with my awesome coach Greg Grandgeorge (a well-seasoned, amazing endurance athlete himself) and another athlete of his, Janie Hayes (She comes with a resume of ultra events about a mile long where she has crushed records herself and is one of the most positive people I've had the pleasure to meet). We were moving at a nice pace. Not too fast, not too slow. Greg's pacing was working great and I felt pretty good all things considered. Darkness is not my friend. I have poor night vision and my primary goal was to just hang on and make it to daylight.
I'm also delicate in the aspect that I do not like being too cold. I need to be cautiously selective in gear choices. This left me grabbing a thin wool layer at the last minute that I wore to start, but wish I didn't bring, as it was probably a little too much. I had my rain jacket as my final wind barrier (windbreaker and short sleeved jersey and arm warmers under that). For legs, I chose a very light tight that I'd have to just suck up and deal with during the hot hours of the day. I elected to wear knee warmers on the outside to block the wind then shed them later. This would be my first quasi-mistake. I didn't pull them up high enough and so they kept rolling down and at one point the right warmer fell down around my ankle dangerously close to the drivetrain. I spent way too much time messing with them instead of getting to focus on cues and the course. Feet were perfect with a thin wool sock, foot warmers, gravel shoe with toe covers, toe warmers on top of that (Thanks, Lee Buell!!), and then a full shoe cover over that. All easy things to throw away and not need again going into a second warmer night. It sounds ridiculous on paper, but it worked perfectly for me.
SATURDAY
Breaking daylight came fast, and the pace picked up. It was finally warm enough to shed layers when we first saw our directors and the drone at the top of a rutted B road. I was super hot by that time. Janie was laying down a hard pace. We gained Joe Mann, and the four of us, with some occasional additional riders, worked together for about 50 miles until Janie was just gone. If I tried to keep following her I'd be toast in short order, and thankfully the others felt the same way. So Joe, Greg, and I pedaled away to CP1 through endless hills and lots of fresh gravel that required some careful riding on the shoulder.
We rolled into CP1 and got our new cues. I was thrilled to see Velorosa ladies and hugs were welcome! We refueled at Casey's and were back on the road in about six minutes. Not too shabby for this dallier.
After CP1, the wind was starting to take a toll, and it was with sadness that we said goodbye to Joe around mile 100. Greg and I pedaled on in the wind. Let's be clear, Greg frequently sat on the outside and took the wind… for hours upon hours. I kept having an inner monologue questioning why he kept on with me as he was stronger and I felt inadequate. The feeling of doubt creeps in on many of us. I'm told this draft shadow is not that much of a benefit from the number guru, but I disagree. That draft shield was priceless. I would not have been moving like I was without him, although he said the same of me, and so the teamwork continued (I was so glad for it). We chatted, pedaled in amicable silence, and enjoyed the sights the best we could while chronically checking cues and navigating sandy roads.
About 30 miles in, it became abundantly clear to me that my 100 ounces of water and two CarboPro bottles of nutrition were not going to be adequate hydration for nearly 90 miles of hot, brutal terrain. And so began the quest for water. We lucked out to find a farmer that was willing to allow us to fill up at his pump about 40 miles past CP1. That was a savior because I still rolled into CP2 with almost no hydration left and having already drank down 50 ounces at the refill.
There was some real suffering going on for me during this time… I was tired. Wind was endless, hills relentless. I had a couple close calls shimmying around on the road due to lack of concentration. The scenery became barren for bit. Beautiful, but stark and slightly ominous as temperatures soared for the first time this year. Our magical directors reappeared and asked how we felt as they snapped some pictures. "Feeling good!" :) Okay, maybe not great, but show no weakness and let's be real. I think I felt like I should at mile 130?
Things get a bit fuzzy here. I hit my Garmin lap button by mistake at the wrong time. I was thankfully still able to perform simple math. I had no idea where I was except somewhere in Iowa. Greg and I were joking that we'd gone so far west we should be getting close to the Missouri River. My chain jumped off my outer chainring a few times, making me jumpy about shifting gears. South winds were chipping away at my mental resolve paired with some monster southern hills, and power was just slipping away.
Rolling into CP2 ahead of the cutoff was a relief paired with the reality that were not even halfway! We refueled and rested for a total of 14 minutes. We picked up the next set of cues, accepted more well wishes from volunteers and rolled out.
We found out that CP2 was Anita, Iowa (reached at 6:00 pm). Then I was convinced that we were headed to the Tree in the Road. I was so excited to share this little Iowa piece of history with Greg. We were in a race, stopping for pics violated both our usual routines, but I asked anyway. Let's just say that one of us was way more excited about the tree than the other and it wasn't Greg. :) It's a worthy Iowa trivia stop if you ever find yourself by the town of Brayton, and you're not in a bike race that is testing your mettle and resolve to keep pedaling.
From there we went more west and north and were eventually greeted by the directors and told we were just behind Janie. It was around there we had encountered the infamous Trail of Tears. I think I know it as it was an endless round of brutal hills covered in deep fresh gravel with no ridable shoulder. Greg had dropped the hammer to race daylight and I was hanging on for dear life. We survived, enjoyed a beautiful sunset and switched to our night apparel and lighting.
OVERNIGHT
Somewhere along the way we finally caught Janie. She looked a little tired, but that didn't last long, and she ultimately sat at the front of our group seemingly forever. We learned there were some nutrition/navigation issues for her. We joined forces in the darkness and remained that way until the end of the race. I can't tell you much about the night. My fears returned, but with the power of three heads and three lights, we navigated our way through the course. We talked through challenges.
I struggled to eat on the bike and was always eager to stop and stretch and sneak more off-the-bike eating. I slapped my cheeks to stay awake. I didn't want to show my fellow racers how fatigue was taking its toll. From 1:00 to 4:00 am, it was rough staying awake, but I was so taken by the blinking red lights of a multitude of windmills and the whoosh of their monstrous blades all under a full moon. What a beautiful sight! I was cheered by Jenn Borst's smiling face and a hearty hug in the middle of the night on a rather rutted and interesting B road.
In the wee hours of the morning we arrived at our last stop of the race in Adair, Iowa. I think we took a rather generous stop there. I was cold and tired, and nutrition was quite off. This finally explained the last several hours of ongoing nausea, and my stomach finally started growling in protest. In hindsight, I may have eaten too much and just made poor choices. I bought what I thought I could handle, ate half of a shared sandwich from Greg, and drank my third chocolate milk of the race. I put on almost all the gear again, and we headed out. Too much gear and layers were quickly shed.
DAWN TO FINISH
The arrival of daylight had me ecstatic. Finally, I had made it! It would be so much easier from here! I was so wrong.
This would, in fact, be the low of the race for me. The last 50 miles were brutal. I entered a dark place. Every mile crept by. My attitude was poor. My fatigue was extreme. It's the times like these, as Janie and Greg and I had been discussing overnight, that you have to let it go. There is no room to feel like that. It slows you down. Your performance suffers, and I felt all of it. I almost wanted to cry. I had fleeting thoughts of quitting. So many parts of me were in pain. I was quietly at the bottom of the bottom.
But this was offset by almost a feeling of desperation. To have come so far and even consider throwing it all away? It contradicted everything I'd like to think I stand for, which is a willingness to suffer and enjoy the struggle, to embrace the suck, and to overcome the hardships, because I'm lucky enough to choose this path. Because I am grateful for the chance to try. So I spent some time trying to reshape my thinking and appreciate the beauty of the morning.
We met Bob Billings for a brief time, but he pulled ahead. We caught up to him again a bit later as he had made a wrong turn. We called out to him, but he didn't hear us and we pressed on.
The last 28 miles became a race to the finish with what little power was left. We headed south and east. We had just navigated a flat section that was like a day at the beach with deep, seemingly never-ending sand. We knew we had competition hot on our heels. We fell into a pace line into the winds, taking turns at the pull. I finally perked back up.
It was long past my turn to do some work. I ate every last calorie on my bike (I was still quite off, and that was entirely my own fault) and drank all my water down to a few ounces as the temperatures climbed again. We pushed as best we could without burning up our already spent legs.
We had been promised that the last ten miles would be interesting. Knowing we were coming back to Winterset and Pammel State Park, I knew that meant lots of big hills. And specifically, the crown jewel of Sarah's master plan, the Rippy Dumps at mile 333. They are probably the largest hills in Madison county, so it would only stand to reason that they should be encountered in the 11th hour. I sat there at the bottom eyeballing them with speculation. They are rideable on fresher legs, but these sad legs? Not so sure! Janie went first. Her small speck in the middle of the first monstrous hill was a sight I wish I could share, as it was impressive. We all made it.
THE FINISH
We sat at the bottom of Pammel State Park and finally decided how we would end this race. It was time for celebration, and we decided on riding in together. It was a fitting finish. The feeling of elation as we rolled through the tunnel to see our directors one last time and hear the cheers of the small crowd of family/friends/well-wishers gathered at the bottom was indescribably special.
Seventy-one racers checked in for this event. Fifty-seven racers toed the line to start. Six racers finished in the allotted 34-hour window. Janie, Greg, and I had a three-way tie for second behind Mark Skarpohl, who rode an absolutely fantastic race. Janie and I tied for first women, and Greg took second for men. It was a proud day!
And so I feel immensely grateful. Grateful for the endless hours that were put into this event to make it what it was. Grateful for the all the volunteers and sponsors and donations that made this event a success. Grateful to my coach Greg, for pushing me to be a better/stronger me and believing in me more than I believed in myself at times. Grateful for so much time with Janie who inspires me with her optimism and unbelievable skills. SO grateful for my husband and daughter who tirelessly support me through training and give me the chance to explore this aspect of myself. Grateful for this racing community who continues to teach me. I am grateful to all of the local cycling shops that had a hand in this effort. Kyle's Bikes who has meticulously maintained my bike to make it race ready and keep me safe. Beaverdale Bicycle Shop built a new wheel with Dyno hub and Sine Wave Beacon to cut through the darkness. Bike fitting and apparel acquired through other local shops as well. I'm grateful for my Velorosa Cycling Team of amazing women that have cheered for me and supported me through so many things.
I started this race knowing/believing that I had the capacity to finish it, but not entirely sure in what shape or form. This race was the ultimate test. Mind, body, and spirit were pushed to the limits. I happily left a small part of myself on that course; a part that had irrational fears, and I gained so much more. I came through the darkness and into the light with a better understanding of my own self. And so I am grateful. It has shaped me and taught me things that would be learned no other way.
Thank you from the bottom of my heart for an experience that will last a lifetime!
---
Full results are available on the Iowa Wind and Rock website.
Photo credits:
"Heather on Fresh Gravel" by Iowa Wind and Rock
"Check-In on Friday" by Katherine Roccasecca
"Heather at the Start" by Katherine Roccasecca
"Last Minute Announcements" by Katherine Roccasecca
"Poskevich and Grandgeorge Together" by Iowa Wind and Rock
"Convenience Store Stop" by Iowa Wind and Rock
"Hayes, Poskevich, and Grandgeorge just over 30 miles out" by Iowa Wind and Rock
"Finish in Pammel Park" by Ana Grandgeorge
Used with Permission.